Works for me Wednesday is having a five ingredients or less edition this week. I decided to pull a few recipes from my archives for it. I couldn't decide which one to share, so I am sharing two recipes today. Both of the recipes are from the first month or so of my blog so I am sure most of you missed them anyway.
If you are a regular reader you know I am trying………to cook healthier. Well, neither of these really fit into the healthy category. The muffins or low fat but both recipes use a box mix. But they are good, quick and easy, and five ingredients or less. For more five ingredients or less ideas see WFMW.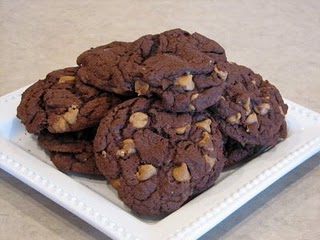 Easy Chocolate Cookies
1 chocolate cake mix ( I like Duncan Hines best for this recipe)
1/2 cup oil
2 eggs
1/2 package of peanut butter chips (or butterscotch or white choc.)
Mix cake mix, oil, and eggs together. It will be a stiff batter. Stir in chips. Bake at 350 degrees for 10 – 11 minutes.
Cinnamon Applesauce Muffins
1 package cinnamon swirl muffin mix ( I use Betty Crocker)
1 cup unsweetened applesauce
1 egg
Place the muffin mix, applesauce, and egg in a bowl. Mix together until combined. Fold in cinnamon streusel packet. Scoop into muffin tin. I like to use muffin liners in the pan. Bake at 400 degrees for 16-18 minutes or until done.