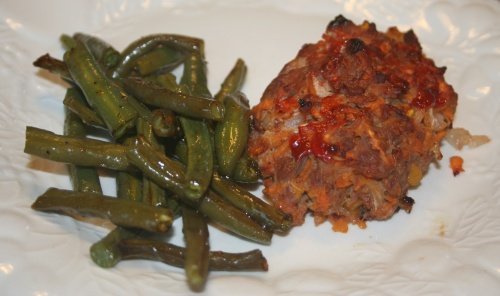 Last year when I did a survey you all asked for more chicken recipes. I love chicken and I know it is a healthy inexpensive main dish to serve, but my family does not eat a lot of chicken or turkey. We raise hogs, my husband and kids hunt, and we buy half a beef each year, so chicken is something I only buy when I get a really good deal.

My sister's family however eats a lot of chicken and turkey and we cook a lot alike. Well, okay my sister probably cooks a little healthier than I do, but in general we cook a lot alike. So, I asked her if she would share some of her favorite chicken and turkey recipes with my readers and she thought it was a great idea. Over the next few months she will be doing an occasional guest post and I hope you enjoy them. And if you are gluten free or deal with food allergies be sure to visit her site. She has some great recipes for living with food allergies.
Meatloaf is a family-favorite at my house; however, it isn't always a practical weeknight meal. Making individual size loaves, not only reduces the cooking time, but makes the meal more appealing to the kids. And baking the green beans on the same pan makes for easier baking and cleanup.
I like to use turkey as a healthy alternative to beef. The sweet potato keeps the loaves nice and moist, but doesn't overwhelm them with sweet potato flavor. And it's a great way to sneak in some extra vegetables!
Cooking the green beans with a little oil and maple syrup adds a nice flavor, but you could leave the maple syrup out if you prefer.
Mini Turkey Meatloaves with Green Beans
Ingredients for meatloaf:
1 pound ground turkey (I use dark turkey meat)
½ cup chopped onion
¼ cup finely diced bell pepper
1 clove minced garlic
1 cup grated sweet potato
4 tablespoons barbecue sauce (reserve 1 tablespoon for top)
½ teaspoon salt
¼ teaspoon black pepper
Ingredients for green beans:
1 pound green beans, trimmed and cut into bite-size pieces
1 tablespoon Maple Syrup
2 teaspoons olive oil
½ teaspoon coarse salt
¼ teaspoon black pepper
Directions:
Preheat oven to 400. Lightly oil a rimmed baking sheet.
In a large bowl, combine the meatloaf ingredients, mixing until well combined.
Using your hands, form into four loaves and place on one side of the baking sheet. Using a spoon or pastry brush, lightly brush tops of loaves with the reserved barbecue sauce. Bake in preheated oven for 20 minutes.
Meanwhile, in a large bowl, combine the green bean ingredients, tossing to coat evenly. Place the green beans next to the meatloaves and continue to cook until meat is cooked through and the green beans are tender, about 20-25 minutes more (meatloaves cook for a total of 40-45 minutes)