This is a post is written on behalf of Pampered Chef, but my opinions are 100% mine. 
One quick look around my kitchen will let you know that I love Pampered Chef. I tried figuring out how many Pampered Chef items I owned and I lost count. Yes, I own that many.
After fifteen or so years I now have quite a large collection of Pampered Chef items. From the stoneware to the measuring cups and spoons, I love it all. I love to use it in my kitchen and I love to give it as gifts. 
When Pampered Chef contacted me recently about working with them on their Help Whip Cancer campaign, it was easy to say yes.
And when I found out it involved a giveaway for my readers, the answer was definitely yes. I know you all love Pampered Chef as much as I do.
Here is a little information about the Help Whip Cancer campaign and how you can help.
Since the campaign's beginning in 2000, Consultants and customers have raised more than $10.2 million to Help Whip Cancer®.

 Make a Difference in May and October

 with The Pampered Chef®!

Funds raised by the Help Whip Cancer® campaign are distributed to breast cancer education and early detection programs across the country.

Here's how you can Help Whip Cancer®:

Host a Fundraiser Show! – 

When you host a Help Whip Cancer® Fundraiser Cooking Show in May and/or October, up to 25% of Show sales will be donated to the American Cancer Society®.

 

Purchase pink products! – 

Pampered Chef® pink products are available in May and October. We'll contribute $1 to the American Cancer Society® for each one that you purchase.

You can also find out more information about this campaign and the message by visiting the Pampered Chef website 
Since the Help Whip Cancer campaign is to benefit the American Cancer Society I was asked to turn one of my favorite recipes pink in support of breast cancer awareness. When I think of Pampered Chef recipes I think quick and easy. Their recipes are recipes for everyday cooking. So, I knew I needed to turn one of my favorite quick and easy recipes pink.
I decided to involve my kids on this one and make something fun for them. I decided to turn a favorite crispy rice treat pink. And it could not have been easier.
One of the reasons I choose to make these was that it is one of my favorite things to make using my rectangular stoneware baker. The stoneware baker is nice and deep, so it makes a nice thick treat that my kids love.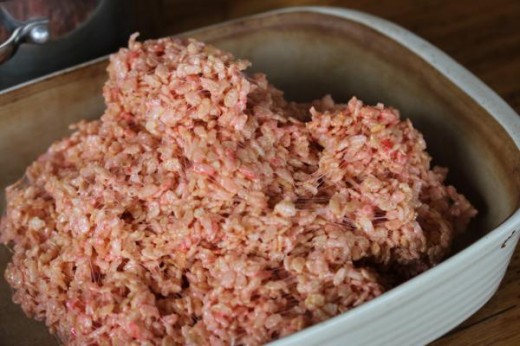 This is pretty much your basic crispy treats recipe with the amounts changed to fit the deep stoneware baker. And with a few drops of food coloring added.
Nice and thick and delicious! Wouldn't these be fun for all kinds of things. Parties, kids treats, etc. My girls loved them pink.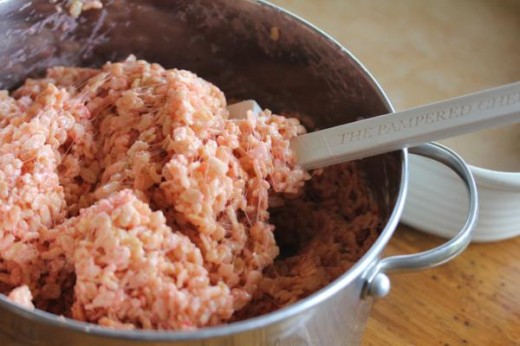 Pink Crispy Rice Treats
5 tablespoons butter

6 cups mini marshmallows

9 cups crispy rice type cereal ( I used gluten free)

4-5 drops red food coloring
In a large pan melt butter. Add marshmallows and stir until melted and smooth. 

Remove from heat. 

Stir in food coloring. You want this a dark pink because it will lighten as you add the cereal.

Stir in cereal. (The large mix and scraper 

works great for jobs like this that are a little harder to stir.)

Spread in stoneware baker.

Cut into squares and serve! 
Now for the giveaway!!
Pampered Chef is giving one of my readers a set of their Pink Products.
Two of my favorite Pampered Chef items are in this giveaway. A paring knife and the clips. My mom gave me one of their paring knives years ago and I still use and love it. The clips, well those are good for just about anything. From bags of chips and crackers to flour and chocolate chips, I used them on everything. I think you will love these as much as I do!
One reader will win a set of pink Pampered Chef items just like the one pictured above.
All you have to do to enter is leave me a comment. You can leave any comment, but I would love to hear what your favorite Pampered Chef item is. 
Giveaway ends Tuesday May 14, 2013.

For more details please see my

giveaway policy.

If you are reading this through email you must

click here

and leave a comment to enter. Responding to this email does not count as an entry.

Disclaimer: I have been selected by The Pampered Chef to be an ambassador for their Help Whip Cancer®program. While I have received product in exchange for my post, my opinions are my own, and I have not been paid to post positive comments.