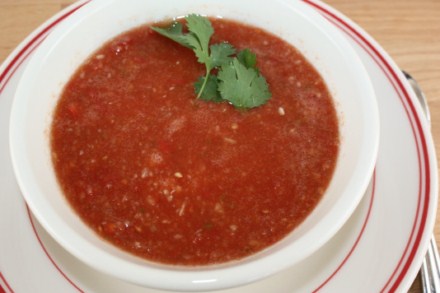 Gazpacho is a refreshing soup for summertime. It is served cold, so it is perfect for hot summer days.
It uses items that are readily available during the summer months and not only that it is packed full of vegetables so it is a healthy meal to serve.
I have tried several different Gazpacho recipes over the years, but this one is a favorite of mine. I really like the depth of flavor that the tomato juice adds to this.
My husband likes to add a little spice to his by adding hot sauce or jalapeno to it. I like it with out the spiciness.

Gazpacho
3 large, ripe tomatoes (about 1 ½ pounds), cored and quartered
2 red or green bell peppers, chopped
2 cucumbers peeled, halved, seeded and chopped coarsely
5 cups tomato juice
1 onion, minced
1/4 cup red wine vinegar
2 garlic cloves, minced
½ teaspoon Tabasco
Salt and pepper to taste
Pulse the tomatoes in a food processor until finely chopped, about 10 -12 pulses. Transfer to a large bowl.
Then pulse the bell peppers, onion, and cucumbers in the food processor until finely chopped, about 12-15 pulses.
Add to the bowl with the tomatoes. Stir in the tomato juice, vinegar, Tabasco, and 1 teaspoon salt.
Refrigerate soup 2 hours before serving. The flavors need time to meld and intensify, and the soup needs time to chill thoroughly.
Add more salt and pepper to taste and serve.
Recipe adapted from Cook's Illustrated.