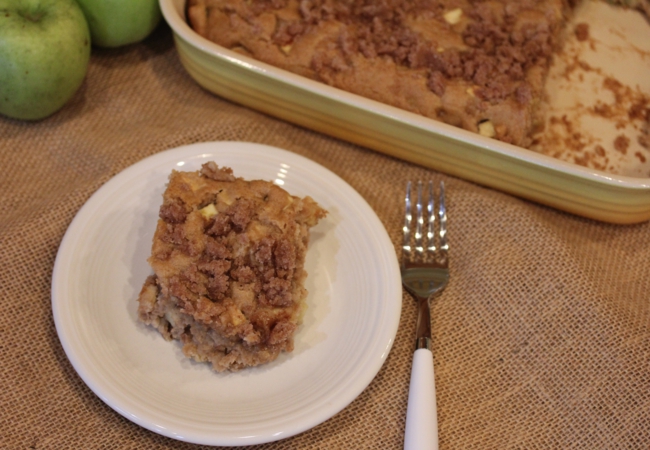 Today in my main section I am sharing my mom's apple cake recipe that my she has been making for years. It is a basic cake that originally was made with rhubarb. I recently adapted it with apples and it was delicious.
It is a great cake, so I knew I wanted to share the gluten free version as well. This cake works great gluten free because it is such a moist and dense cake. Those kind of cakes usually adapt well to gluten free.
And yes if you look at the regular version you will notice that the pictures on both posts are the same. I did not have time to take more pictures and the gluten free cake looks the same as the real version, so I just went ahead and posted it with the same pictures.
If you are looking for a simple gluten free fall cake this one is a must try!
Gluten Free Apple Cake Recipe
1 1/2 cups rice flour
1/2 cup sweet rice flour
1/2 cup cornstarch
1/2 teaspoon xanthan gum
1 teaspoon baking soda
1 teaspoon salt
1 1/2 cups brown sugar
1 egg
2/3 cup oil
1 cup buttermilk (or sour milk by using 1 cup milk and add 1 teaspoon of vinegar and let sit for a few minutes to sour)
1 teaspoon vanilla
3 cups finely diced apples
1 teaspoon cinnamon
Topping mixture:
1 cup white sugar
2 tablespoons butter, melted
2 teaspoon cinnamon
Preheat oven to 325.
In a large bowl combine rice flour, sweet rice flour, cornstarch, xathan gum,  baking soda, salt, brown sugar, egg, oil, sour milk, and vanilla. Mix by hand until well combined.
Stir in diced apples and cinnamon.
Spread into a greased 9×13 pan.
In a small bowl combine topping ingredients and sprinkle over cake batter.
Bake for 35 minutes.
Serve warm or room temperature.