Gluten free eating can be easy and delicious. Recipes like this Gluten Free Blueberry Muffin Snack Cake can also be food that your whole family loves.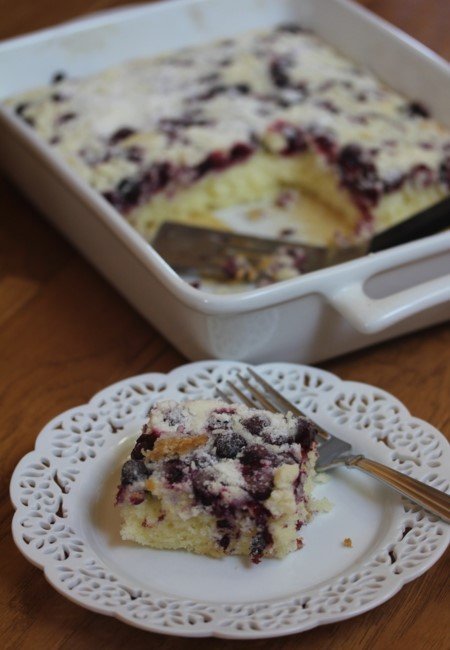 Gluten Free Blueberry Muffin Snack Cake is a delicious gluten free treat anytime of day. Breakfast, lunch, snack, or dessert. This is delicious!
One of the things I have learned over the last few years when it comes to adapting recipes to gluten free is the importance of starting with a really good recipe.
A recipe that is just so so will turn out to be just a so so, or even a worse, gluten free version. But a really good recipe often results in a really good gluten free version.
This may seem pretty obvious, but it is worth mentioning because it really is important.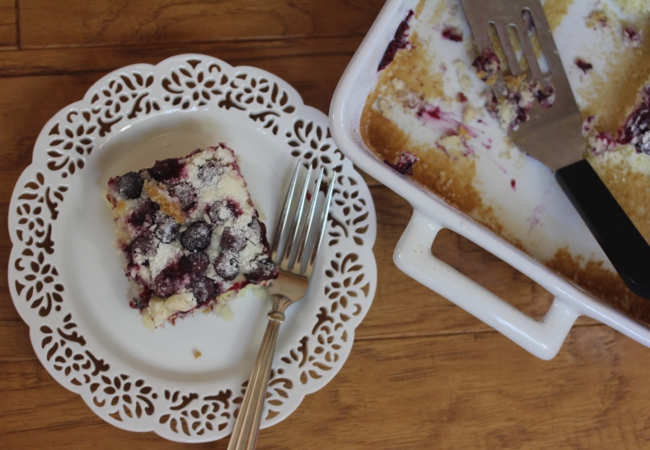 Many of the gluten free recipes I share here are family favorites that I have converted to gluten free. So, I know I am starting out with a good recipe that we have had and love in the regular version. That makes adapting it to gluten free so much easier.
Sometimes though I come across recipes that sound so good, but are not gluten free. If I am not sure of the source I often just skip over it and figure it may not be worth adapting to gluten free. If the source is a trusted cookbook or website though I usually figure it is worth giving a gluten free version a try.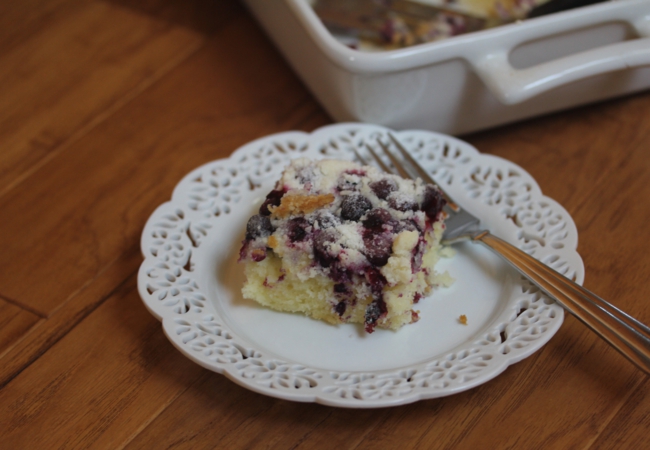 That is what happened recently with this gluten free blueberry muffin snack cake. I saw a recipe for blueberry muffin snack cake on Mommy's Kitchen and it sounded so good. Mommy's Kitchen is a blog I have read for years. Before going gluten free I made and loved quite a few of her recipes.
Her recipes always look so good. I love her blog so much that I have kept reading it even though most of her recipes are not ones we can have because they are not gluten free. And I have tried enough of her recipes to know that many of them will adapt well gluten free. It goes back to the trusted source thing.
So when I saw her recipe for blueberry muffin snack cake, and I had a bunch of fresh from the garden blueberries, I knew it would be a good recipe to try and adapt to gluten free.
And it was good! In fact, it was delicious. I made this for dessert one night, but several in my family may just have eaten the leftovers for breakfast the next day. Yes, it was that good.
I am so glad I have a freezer full of blueberries because this cake will be one I make often.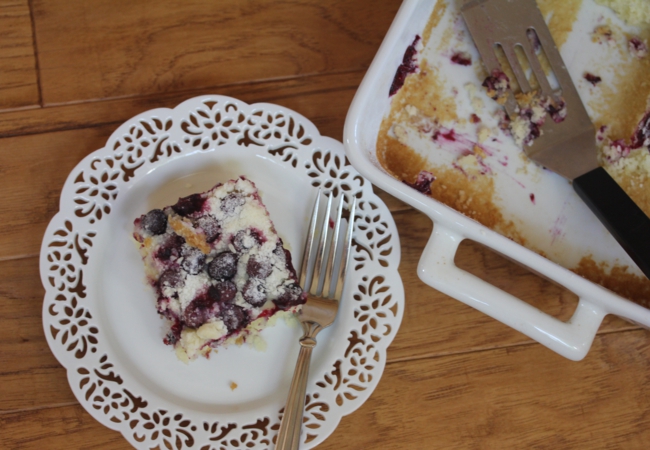 Love blueberries? You might enjoy some of our favorite blueberry recipes.
Gluten Free Blueberry Muffin Snack Cake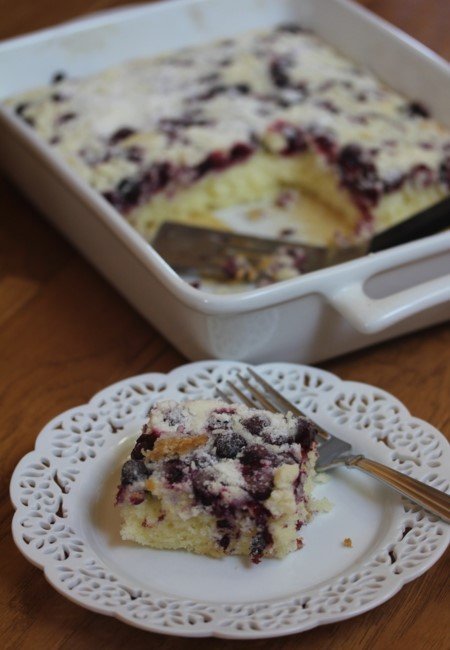 Gluten Free Blueberry Muffin Snack Cake is a delicious gluten free treat!
Ingredients
1 cup rice flour
1/2 cup cornstarch
1/2 cup sweet rice flour
1 teaspoon xanthan gum
1 1/2 cups sugar
1/2 cup butter, cold
1 teaspoon baking powder
1/2 teaspoon salt
1 cup milk
2 eggs
1 teaspoon vanilla
2 cups fresh or frozen blueberries
Instructions
In a bowl combine rice flour, cornstarch, sweet rice flour, xanthan gum, and sugar.
Cut butter in to pieces and add to flour mixture. Cutting butter in until crumbly.
Set aside 3/4 cup of the mixture to use as a topping.
Add baking powder, salt, milk, egg, and vanilla to remaining flour mixture. Mix until combined.
Fold in blueberries.
Spread into a greased 9x13 pan.
Sprinkle with reserved crumb topping mixture.
Bake at 350 for 30-35 minutes.
Notes
This can be made with a gluten free flour blend in place of the gluten free flours and xanthan gum, but it won't be quite the same. For the best results use the individual gluten free flours.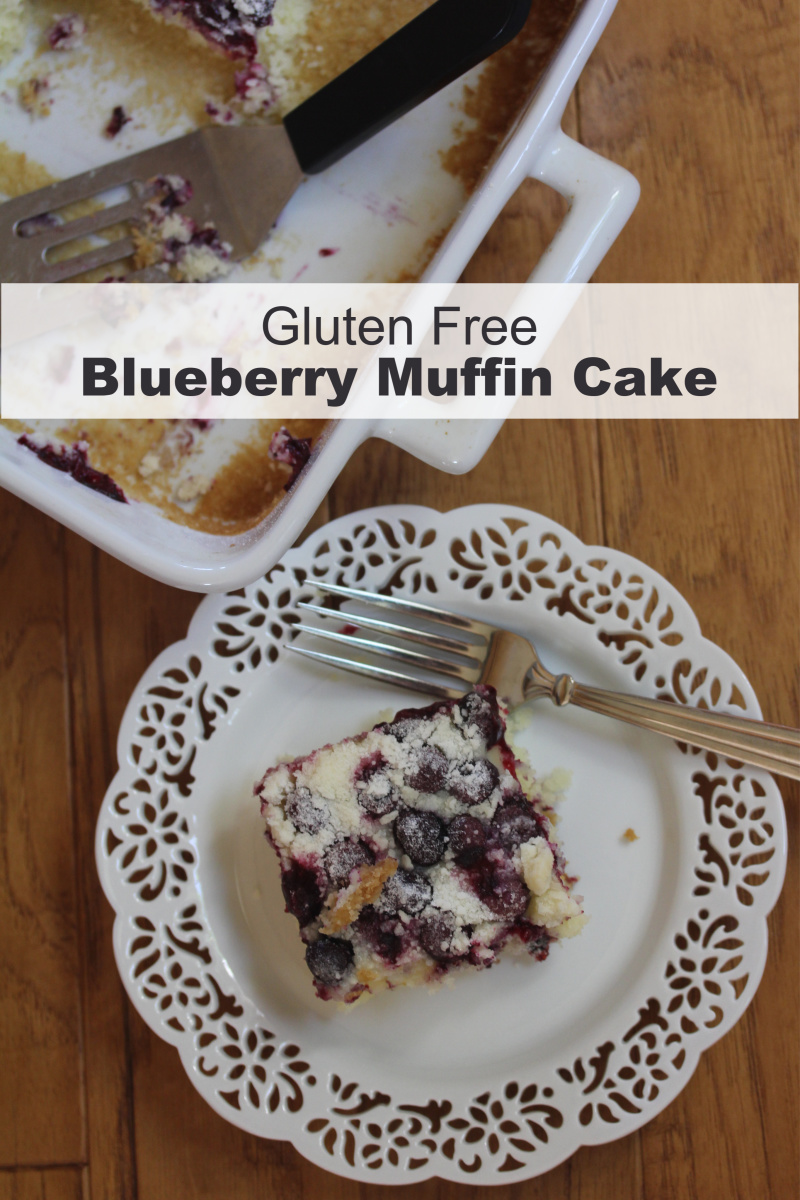 Originally posted August 2014. Updated April 2019.