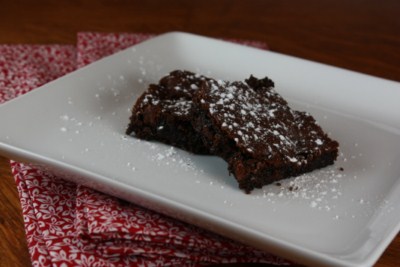 My family loves brownies. I had several regular brownie recipes that we loved, but making gluten free brownies, that were worth eating, proved to be a bit difficult.
Yes, I made some some gluten free brownies that were ok, but if I am going to eat a brownie, I want it to be good.
I was looking for a really good, fudgy, gluten free brownie. I wanted it to be as close to the real thing as possible.
After several months of tweaking, I finally have a gluten free brownie that my family loves. In fact, my daughter requested these for her birthday this week. That is how much we enjoy these brownies.
I will warn you that this recipe has some weird measurements, but it works, it really does.
Gluten Free Brownies
1/4 cup + 3 tablespoons + 1 1/2 teaspoons sorghum flour
1/4 cup + 3 tablespoons + 1 1/2 teaspoons potato starch
1/4 cup + 1 tablespoon tapioca flour
1 1/4 teaspoon xanthan gum
3/4 teaspoon baking powder
1/2 teaspoon baking soda
1 teaspoon salt
2/3 cup unsweetened cocoa powder
2 cups white sugar
1 cup melted butter
3 eggs
1 teaspoon vanilla
1/2 – 3/4 cup chocolate chips (use 3/4 cup if you like a really fudgy brownie)
In a large bowl combine dry ingredients.
Add butter, eggs, and vanilla, and stir by hand until well combined. Do not use a mixer for this recipe.
Stir in chocolate chips.
Grease a 9×13 pan.
Spread batter evenly and bake at 350 for 25-26 minutes or until done.