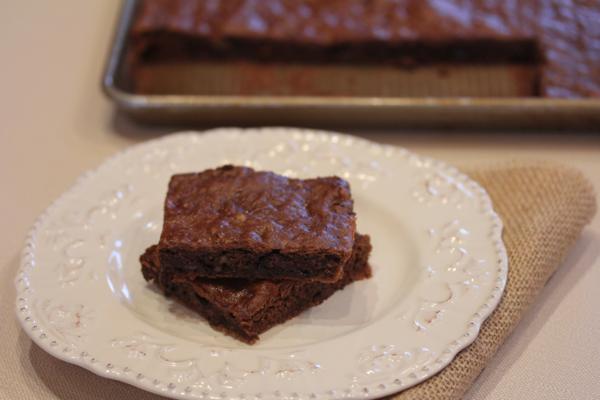 Banana bars are one of my favorite ways to use overripe bananas. They are easy to make and the banana works well with the gluten free flours.
My daughter actually made these gluten free double chocolate banana bars. She is becoming quite the gluten free baker. She is always volunteering to help out baking or cooking something. Gluten free muffins, cakes, and cookies are her favorite.
She loves anything banana and enjoys making my gluten free chocolate chip banana bar recipe, but she wanted to change it up recently and and decided to add cocoa to the recipe.
Adding cocoa to the recipe worked great. They were moist, delicious, and full of chocolate. We loved these just as they are, but you could easily frost them with a cream cheese frosting for more of a banana cake. It would be delicious that way as well.
Gluten Free Double Chocolate Banana Bars
1/2 cup butter, softened
1-1/2 cups sugar
2 eggs
1 cup (8 ounces) sour cream
1 teaspoon vanilla extract
¾ cup sorghum flour
¾ cup potato starch
½ cup tapioca flour
1 1/2 teaspoons xanthan gum
1/2 cup baking cocoa
1 teaspoon baking soda
1/4 teaspoon salt
3 medium ripe bananas, mashed  or equal to about 1 1/4 cups
1 cup semi sweet chocolate chips
In a mixing bowl, cream butter and sugar.
Add the eggs, sour cream and vanilla.
Combine the sorghum flour, potato starch, tapioca flour, xanthan gum, cocoa, baking soda, and salt and gradually add to the creamed mixture.
Stir in bananas until combined.
Stir in chocolate chips.
Spread into a greased 15-in. x 10-in. x 1-in. baking pan. ( My pan is 11x17x1 and it worked fine but they are a little thinner)
Bake at 350° for 25-30 minutes or until a toothpick inserted near the center comes out clean.
Cool and enjoy!