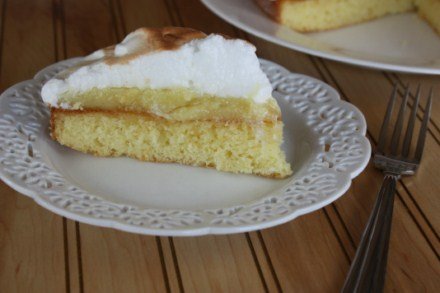 I recently made one of my all time favorite desserts gluten free. It really adapted very well gluten free. I think the gluten free cake was a little bit heavier, but it was very close to the real thing.
You could actually use almost any yellow type gluten free cake recipe or mix for this.
I decided to just post the cake recipe here, because I have the whole recipe and all the steps posted on my main site. You can go there for the filling and meringue recipe, plus all the directions.
Lemon Meringue Cake
Cake:
¼ cup butter
½ cup sugar
1 egg and 2 egg yolks ( save the whites for the meringue)
1/2 cup rice flour
1/4 cup cornstarch
1/4 cup sweet rice flour
1/4 teaspoon xanthan gum
1/2 teaspoon salt
1 teaspoon baking powder
1/3 cup milk
½ teaspoon vanilla
For the Cake:
In a bowl cream butter and sugar. Add egg and egg yolks. Mix well.
In a bowl combine the rice  flour, cornstarch, sweet rice flour, salt, and xanthan gum, and baking powder.
Add dry ingredients to creamed mixture, alternating with the milk. Start and end with the dry ingredients.
Add vanilla. Place batter into a greased and floured 8 or 9 inch round cake pan.
Bake at 350 for 25-30 minutes or until done. Let cool 5 minutes and remove from pan to a cooling rack.