Sugar cookies and the holidays just seem to go together for me. Christmas cookies and sugar cookies in particular have special memories for me.
When I was growing up we would spend time each December making cookies with an older lady from our church who was like a grandmother to us. She had a large kitchen table and we would roll out the dough, help cut them out, and then frost them.
It was so much fun and my sisters and I would look forward to it every year. And sugar cookies are still one of my favorite things to make this time of year.
Since going gluten free I have worked on coming up with some new favorite sugar cookies that my whole family can enjoy.
This year I made a gluten free version of a lofthouse style sugar cookie and they turned out great. And by great I mean they were gone in no time.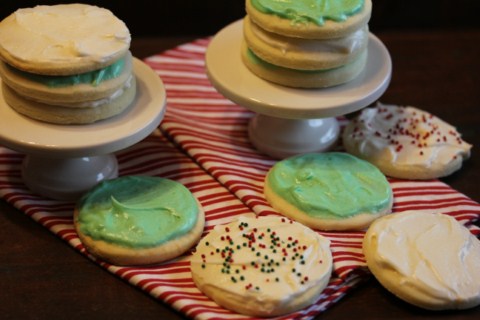 Now, the first day I made these I did not think they were quite like a lofthouse style cookie, they were close, but not quite the same. The next day, when I ate one for a 10:oo breakfast, just keeping it real, they tasted just like a lofthouse style cookie.
The texture had changed a little bit as they sat overnight and I think they were even better the next day. Next time I make these I think I will make them one day and frost them the next. Either way you make these though they are really good!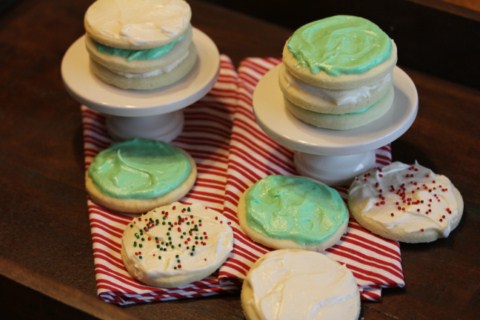 Gluten Free Lofthouse Style Cookies
Cookies:
1 3/4 cups rice flour
1 cup sweet rice flour
1/3 cup cornstarch
3/4 teaspoon xanthan gum
1/2 teaspoon baking soda
1/2 teaspoon baking powder
1/4 teaspoon salt
1/2 cup butter, softened at room temperature
1 cup sugar
2 eggs
1 teaspoon vanilla
3/4 cup sour cream
In a bowl wish together rice flour, sweet rice flour, cornstarch, xanthan gum, baking soda, baking powder, and salt. Set aside.
In the bowl of a mixer cream the butter and sugar for several minutes until light and fluffy.
Add eggs one at a time and beat until well mixed in.
Add the vanilla and sour cream and beat just until combined.
Add the dry ingredients to the butter mixture and mix just until combined.
Divide dough into several chunks and place on a pieces of plastic wrap. Flatten chunks and cover in plastic wrap. Refrigerate for several hours or until chilled and firm.
Lightly dust counter or silpat type mat with sweet rice flour. Take dough out from the refrigerator and place on dusted surface. Roll dough out into 1/4 inch or so thickness. (If the dough is too firm let it sit out for just a few minutes before you start rolling it out.)
Using a cookie or biscuit cutter to cut into circles and place on a baking sheet.
Bake at 375 for 6-7 minutes or until done and slightly golden around the edges. You do not want to over cook these.
Remove to wire rack and cool.
Let cool completely and then frost with recipe below.
Frosting:
1/2 cup butter, softened
2 cups powdered sugar
pinch of salt
3 tablespoons milk
Combine ingredients and beat well until smooth. Add food coloring if desired.
Frost cookies and serve.
Recipe adapted from Two Peas and Their Pod lofthouse sugar cookies.