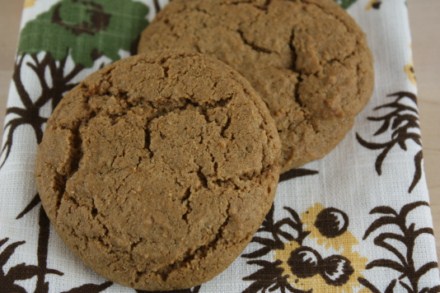 If you follow me on Facebook than you know that I have been trying to make gluten free molasses cookies for months.
Molasses cookies are one of my husband's favorite cookies and I knew I needed to get them right. And for some reason I have been really craving them, so I was really determined to figure them out.
I think these cookies might have created more disasters than any other gluten free recipe I have tried. It might have something to do with my stubbornness to adapt one of our old favorites to be gluten free.
Our old favorite was so good, that I had no desire to give any other recipe a try. My goal was to figure this specific recipe out.
And after about 6 disasters, I finally got it right.
I am so glad I did not give up on this recipe. It was worth all the disasters because what I came up with was very close to the original recipe that we loved so much.
These have a great molasses flavor with a hint of cinnamon and ginger. So good and so worth the wait!
Gluten Free Molasses Cookies
1 ½ cups rice flour
½ cup sweet rice flour
¼ cup cornstarch
1 teaspoon baking soda
½ teaspoon xanthan gum
1 teaspoon ground ginger
¾ teaspoon ground cinnamon
½ teaspoon ground cloves
¼ teaspoon salt
¾ cup butter, room temperature
1 cup sugar
1 egg
1 tablespoon water
¼ cup molasses
Preheat oven to 350 degrees.
In a small bowl combine rice flours, cornstarch, xanthan gum, baking soda, ginger, cinnamon, cloves, and salt. Set aside.
In a bowl cream together butter and sugar. Until light and fluffy. Beat in egg and then add water and molasses.
Gradually add dry ingredients.
Drop onto cookie sheets using about 1 tablespoon of dough per cookie. Flatten slightly.
Bake for 8-10 minutes or until done. Cool for several minutes and remove cookies to wire rack.