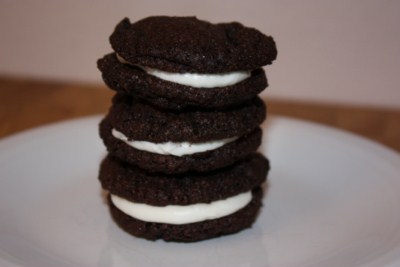 I am fairly new to gluten free cooking. I have only been gluten free for about five months. I have had a lot of disasters when it comes to baking. Everything is so different when you are dealing with gluten free flours.
This has been hard on my family. I used to bake all the time. I would make cookies, muffins, cakes, etc. Since going gluten free, I have really reduced the amount that I bake. It is just not the same gluten free. Not only is it frustrating to have disasters, it is much more expensive to bake using gluten free flours.
However, I have had great success using Betty Crocker's gluten free cake mixes. I will be honest, I am not normally a big fan of cake mixes. I rarely used them before going gluten free. However, since going gluten free, I have been using them quite often. Yes, they are a bit expensive, but I have found the to be a no fail way to get good gluten free desserts.
I will admit though that I have not used them to make a regular cake yet. So, I don't know how they work or taste for that. What I have been doing is taking the cake mix, doctoring it up, and using it in different ways.
I did this with one of my favorite peach desserts. I easily adapted a recipe that my mom has been making for years and made it gluten free.
Today's recipe is another one that I adapted to be gluten free, by just using a gluten free cake mix. My family loved a sandwich cookie recipe that came from a friend of mine. I was sure I could easily adapt this to be gluten free.
I just replaced the regular cake mixes with gluten free cake mixes and it worked perfectly. My family loved these. My husband did not even know they were gluten free until I told him.
I am so glad I have found a few easy and no fail gluten free recipes like this.
Do any of you that cook gluten free use the gluten free cake mixes? What do you think of them? Do you use them often?

Gluten Free Sandwich Cookies
2 chocolate gluten free cakes mixes
4 eggs, lightly beaten
2/3 cup vegetable oil
Frosting
1 package (8 ounces) cream cheese, softened
1/2 cup butter, softened
3 to 4 cups confectioners' sugar
1/2 teaspoon vanilla extract
In a bowl, beat cake mixes, eggs and oil (batter will be very stiff). Roll into 1-in. balls. (I used a small cookie scoop/melon baller so they were all uniform) Place on ungreased baking sheets and flatten slightly. Bake at 350° for 8-10 minutes or until a slight indentation remains when lightly touched. Do not over cook. You want these to be chewy not hard. Cool.
In another bowl, beat cream cheese and butter. Add sugar and vanilla and mix until smooth. Spread on bottom of half of the cookies. Top with remaining cookies.
This post linked to
Slightly Indulgent Tuesday
and
Gluten Free Wednesday
.