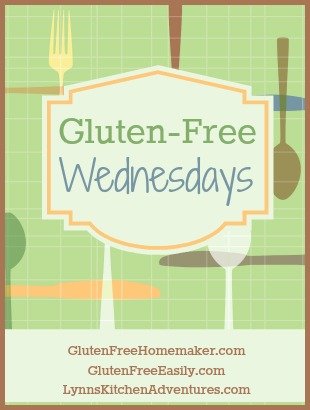 I am so excited this week to be joining two of my favorite gluten free bloggers for Gluten Free Wednesdays.
Gluten Free Wednesdays was started by Linda of The Gluten Free Homemaker several years ago. Linda recently invited Shirley of Gluten Free Easily and I to join her in hosting Gluten Free Wednesdays each week.
I was so excited that she asked me to join her in hosting. Linda and Shirley have been a huge help in my gluten free journey. Both of them are a wealth of gluten free information and they do so much to promote gluten free living that I feel honored to be joining them.
Some of you may be wondering what exactly Gluten Free Wednesday is and what it means for this site. Gluten Free Wednesday is a link up each Wednesday where bloggers can link up their gluten free recipes. This means that each week twenty or  more gluten free recipes are shared for Gluten Free Wednesdays. That is a lot of gluten free recipes shared each week!
This benefits both readers and bloggers.
If you are a reader this means you will have a great new source for finding gluten free recipes and ideas. We all need more of those.
If you are a blogger please join in the fun and link up your gluten free recipe each week. We would love to have you join in and share your favorite gluten free recipes. We ask that all recipes linked up be gluten free and if you join in that you link back to one of our sites in your post. You can find out all the details and guidelines for joining in on my Gluten Free Wednesday page.
I am really excited about this new weekly feature and I hope it is something you all will enjoy too!