I may have mentioned once or twice that I love to grill this time of year. But really I do love to grill and entertain during the spring and summer months. I recently had a group of friends and family over for a grilling party and we had so much fun.
The weather the day of our grilling party turned out to be less than perfect for grilling weather. It was in the low 50's and was quite windy. The adults ended up spending the evening inside, while the kids dressed for the weather and played outside.
This did not stop us from having fun though. We still grilled outside, because as you know you can use your grill in almost any weather.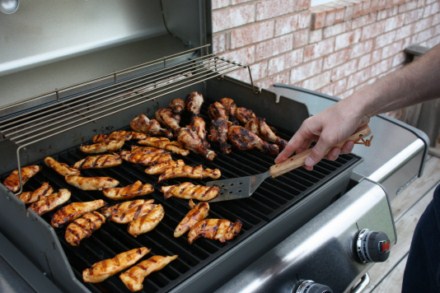 I decided on a spicy theme for our grilling party and served Bush's Texas Rancheros Grillin' Beans and salad made from lettuce from our garden.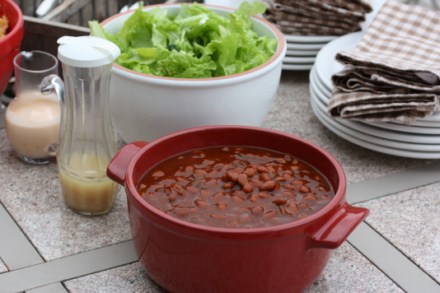 We had some very tasty homemade raspberry lemonade and regular lemonade. And for dessert we had both white chocolate and regular chocolate custard.
The main dish for our grilling party though was a really good grilled chipotle orange chicken. It had great flavor, with just a slight spiciness, and paired really well with the Bush's Grillin' Beans.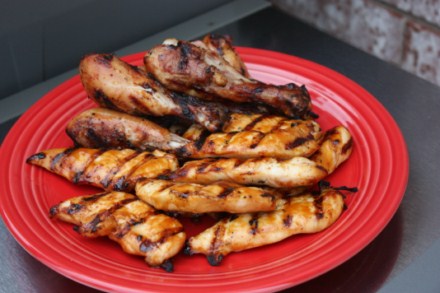 Now on to the recipe for Grilled Chipotle Orange Chicken.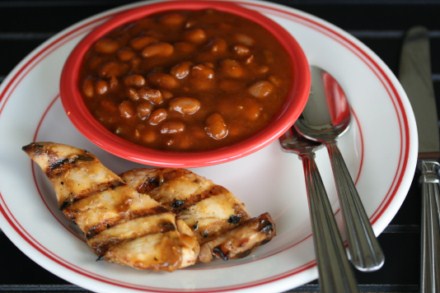 Grilled Chipotle Orange Chicken
1 cup orange juice, divided
5 tablespoons soy sauce, divided
4 tablespoons brown sugar
2 tablespoons olive oil
3 cloves garlic, minced
1 teaspoon salt
2 lbs of chicken, either breast, tenders, or drumsticks
2 teaspoons brown sugar
1/2 – 1 chipotle pepper (one pepper not one can) You can add more if you like it really spicy
2 teaspoons cornstarch
For the meat: Combine ¼ cup orange juice, 3 tablespoons soy sauce, brown sugar, oil, garlic, salt, and 1 chipotle pepper into a blender or food processor and pulse until well combined. Pour over chicken and marinade for about 15 minutes. You do not want to marinade for much longer than 15 minutes or it will change the texture of the meat.
For sauce: In a blender combine remaining 1 tablespoon brown sugar, remaining ¾ cup orange juice, remaining 2 tablespoons soy sauce and 1/2 or more chipotle pepper. Blend until smooth. Pour into a saucepan and whisk in cornstarch. Bring mixture to a boil and reduce heat and cook until thicken. Set aside.
Cook chicken on the grill until almost done. Brush sauce onto grilled chicken the last few minutes of grilling. Continue cooking until the chicken is done. Serve and enjoy!
I was compensated for my time in working with Bush's Grillin' Beans on this campaign, but my thoughts and opinions are my own.