This Sunday is Father's Day and when I think of the perfect meal for Father's Day, I always think of steak. Steak is just one of those foods that the majority of men love. In, fact a steak dinner would probably be the perfect gift for almost any dad.
When it comes to steak though my husband is a purist and by that I mean he likes his steak as steak, no sauce and no marinades. Just a little oil, salt, and pepper rubbed into the steak and then grilled to perfection. He likes his steak kept simple.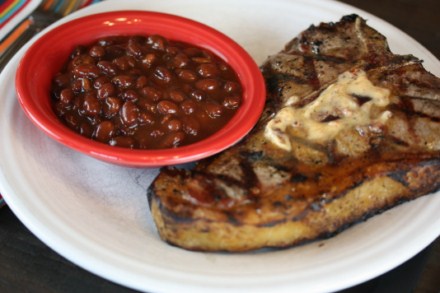 But I have recently discovered that he does enjoy steak served with flavored butters. I mean how can you go wrong with butter melting all over your steak. Make it a flavored butter like the chipotle butter I have for you today, and it is even better.
Now, for Father's Day my husband's choice for side dishes with his steak would be Bush's new Sweet Mesquite Grillin' Beans.
He loves the sweet, yet smoky flavor of the Sweet Mesquite Grillin' Beans and the Sweet Mesquite Grillin' Beans pair well with grilled steak. Sweet Mesquite is Bush's newest flavor in the Grillin' Beans line and we love it.
Grilled steak and Grillin' Beans make the perfect meal for Father's Day.
I would love to hear how you enjoy your steak. Do you like it plain and simple? Or do you enjoy it with rubs and marinades?
And what about cooking it, are you a rare, medium rare, or well done steak eater? 
Grilled Steak with Chipotle Butter
Serves- 4
Prep Time- 25 minutes, plus time for the butter to refridgerate
Cook Time- 8-12 minutes depending on desired doneness
Ingredients:
4 steaks- we like T-bone or rib eye
oil
salt and pepper
For Chipotle Butter
1/2 cup butter, softened
2 tablespoons oil
1/2 teaspoon ground cumin
For the Chipotle Butter
Combine butter ingredients in a food processor and mix until well combined and the chipotle pepper is well chopped.
Lay out a piece of plastic wrap and form into a log and wrap well in plastic wrap.
Refrigerate until firm, this takes about 1-2 hours. Once firm slice into pieces and serve on top of warm steak.
For the steak:
Remove steak from the refrigerator 20 minutes before cooking. Steaks cooks better and more evenly if they are not really cold.
Rub oil and salt and pepper on steak.
Grill over medium heat, turning once, until reaching desired doneness. This will vary depending on the thickness of the steak and the way you like it served. A medium rare steak usually takes about 8 -10 minutes, but that will vary.
Remove from grill and place a slice of butter over the top of the steak. Let rest 2-3 minutes.
Serve with Bush's Grillin' Beans and enjoy!
Disclaimer: I have an ongoing relationship with Bush's Grillin' Beans and am compensated for my time in working with them. However, my thoughts and opinions are my own. I used and loved Bush's products for years.