I guess it has been tomato week here. Earlier this week I posted fresh salsa and how I grill tomatoes and today I have a grilled tomato pasta for you.
Summertime meals to me mean simple recipes, using fresh and in season ingredients. This recipe is just that. It is simple yet full of flavor.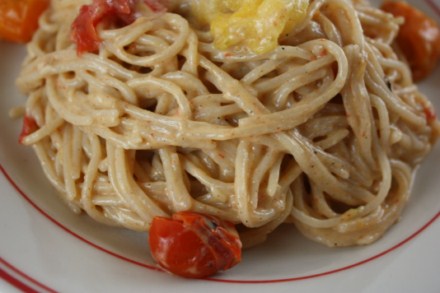 Grilled Tomato and Pasta
About 2 – 3 lbs of tomatoes
4-5 tablespoons of olive oil
Salt and pepper
½ teaspoon of dried basil (or use fresh if you have it)
½ teaspoon of dried oregano (or use fresh if you have it)
1 pound of pasta
½ cup grated parmesan cheese (this is the real stuff, not the stuff in a can)
¼ cup of cream
Cook pasta according to directions. While the pasta is cooking, toss your tomatoes in the oil, salt, and pepper and grill them.
Combine cooked pasta, with remaining ingredients. Once it is mixed well, carefully stir in grilled tomatoes.
Serve immediately and enjoy!
This post linked to
Mouthwatering Mondays
and
$5 Dinners
.