We really enjoy using our grill. We use it a lot during the warmer months so that we do not have to heat up the oven.
A couple of years ago my sister told me that she had grilled pizza and that it was really good. I knew it was something I wanted to try. The recipe she use was out of a Weber Grilling Cookbook. I used the recipe she told me about, and we have loved grilled pizza ever since. It is a nice change from oven pizza, and your oven does not heat up your house.
Making pizza this way gives you a thin, crisp crust. It is more of a flat bread style pizza. I would recommend you use this recipe or one that is made for grilling. The texture of this dough is a little different than normal pizza dough.
Grilled Pizza
3/4 cup water
1 envelope active dry yeast
1/2 teaspoon sugar
2 1/2 cups all purpose flour
1 teaspoon salt
3 tablespoons olive oil
about 1 1/2 cups grated mozzarella cheese or cheese of your choice toppings of your choice
Saturday, we did Canadian Bacon and Pineapple and some with just Canadian Bacon. Pepperoni is great, so it just cheese. Barbecue chicken or pesto chicken is also good.
Dissolve yeast and sugar in 3/4 cup warm water. Let sit for 5 minutes or until foamy. Add flour, salt, and olive oil. Stir until dough holds together. Knead for about 5 minutes. (I do this with my mixer.) Shape into a ball and place into an oiled bowl. Let rise for about 1 hour or until doubles in size. Punch down and transfer to a lightly floured surface. Divide into 5 equal pieces. Roll each piece out.

Place onto a greased cookie sheet like this.
Then carefully flip onto heated grill. I can only fit 3 on my grill, so I had to do this twice. You need to be sure your grill is not too hot. I turn on high to heat it up and then turn down to a medium flame and watch carefully. You will not want to step away. Only grill one side.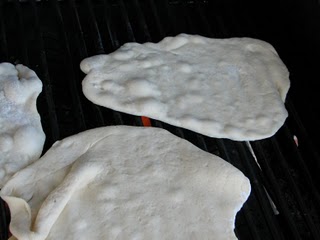 The pizza dough will start to bubble like this.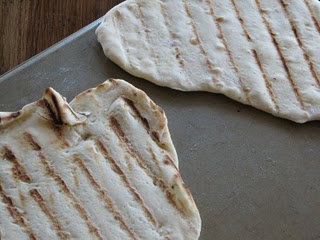 Remove from grill placing the cooked side up.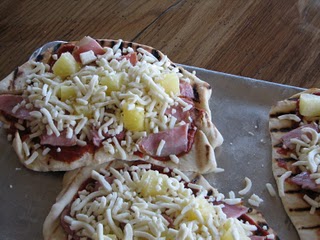 Then add toppings onto the cooked side.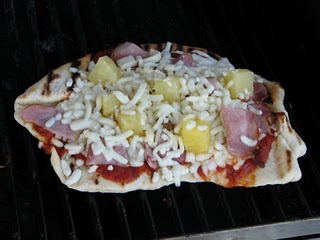 Carefully place back on the grill to finish cooking. This will only take a few minutes. When it is done and the cheese is just melting remove from grill.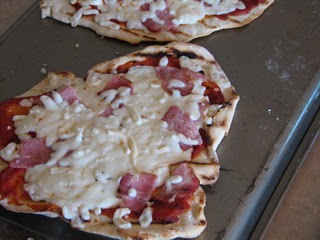 Cut and enjoy.