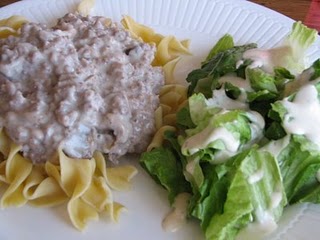 This is a great simple recipe. It contains ingredients that I usually have on hand. This recipe comes from the cookbook "Country Ground Beef". This cookbook was published by Reiman Publications in the early to mid 1990's.
This book is no longer published. The newer version is not as good. If you ever see this book used, pick it up. It contains many simple and frugal ground beef recipes.
I have changed the recipe a little bit over the years, but it is the same basic idea.
Ground Beef Stroganoff
1 pound lean ground beef
1/2 cup chopped onion
2 tablespoons butter
2 tablespoons all-purpose flour
1/2 teaspoon salt
1 garlic clove, minced
1/4 teaspoon pepper
1 can (4 ounces) mushroom stems and pieces, drained
1 can (10-3/4 ounces) condensed cream of chicken soup, undiluted
1 cup (8 ounces) sour cream
8 ounces wide noodles, cooked and drained
In a skillet, cook ground beef in onion and butter until the beef is browned and the onion is tender.
Stir in flour, salt, garlic, pepper and mushrooms. Cook for 5 minutes, stirring constantly. Stir in soup and bring to a boil, stirring constantly.
Reduce heat; simmer, uncovered, for 10 minutes, stirring occasionally.
Stir in sour cream and heat through, but do not boil. Spoon stroganoff over noodles.