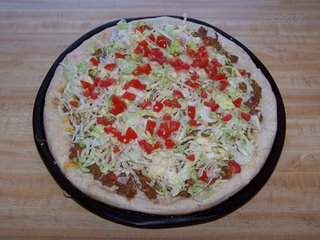 Melissa, one of my readers, recently emailed me saying that one of my recipes inspired her to come up with her own version. I love it when readers do this. Your family may have different tastes than mine or you may have a different budget. So, I always enjoy hearing how you adapted my recipes to fit your family.
I had Melissa do a guest post on what she came up with. I hope you enjoy.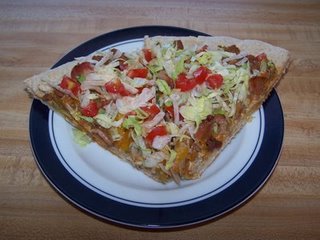 Homemade Bacon Cheeseburger Pizza
We love pizza at our house. For years we had it delivered, but when we started trying to cut corners, we decided to try to make our own. It is SO much better! It is cheaper and tastier and much less salty. Best of all, my son gets to help me make it, which he loves.
We started out making just a basic pizza with sliced mozzarella cheese and ham and green peppers. Then, I saw Lynn's recipe for a Cheeseburger Calzone, and it inspired me to create our Bacon Cheeseburger Pizza.
The bacon cheeseburger pizza was a huge hit in our house! We will definitely be making it again. I hope you like this as much as we did.
Homemade Bacon Cheeseburger Pizza
1 pizza dough (I follow Sara Moulton's Food Processor pizza dough recipe found here.)
2/3 c. ground beef
¼ c. ketchup
1 tbsp. mustard
1 garlic clove
1-2 green onions
1/3 c. shredded cheddar cheese
4 slices bacon
¼ c. shredded mozzarella cheese
Shredded lettuce
Diced tomato
Prepare dough.
While the dough is rising, brown 2/3 lb. of beef in a skillet. When it is done, drain and rinse the beef. (We do this to lower the fat content.) Let the beef cool.
Meanwhile, cook the bacon.
When the dough is ready, spread it out on a greased pizza pan and pierce it with a fork.
Cook the dough at 450 degrees for 10 to 15 minutes or until the bottom turns light golden brown.
Mix the cooled beef with the ketchup, mustard, diced garlic, diced green onion and shredded cheddar cheese in a bowl. Stir well.
When the crust is nicely browned on the bottom, remove from oven and spread the beef mixture over it.
Bake at 350 degrees for 3 to 5 minutes, just long enough to melt the cheese.
Remove from oven and sprinkle on crumbled, cooked bacon and shredded mozzarella cheese.
Cook 2 to 3 more minutes until the mozzarella cheese melts.
Garnish cooked pizza with shredded lettuce and tomatoes.
Enjoy!
Melissa is a mom of two who enjoys cooking and saving money. Her blog, Mom's Plans,  focuses on the financial adjustments she and her family are making so that she can be a stay-at-home mom within the next year.