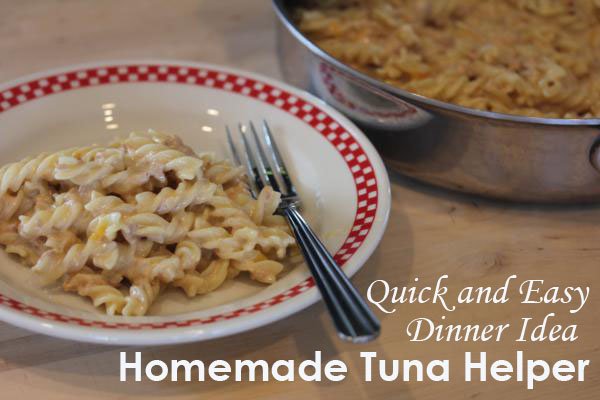 So far in my homemade favorites series I have shared a homemade version of Cheeseburger Helper and a homemade Stroganoff Style Hamburger Helper. Today I am sharing yet another homemade version of a favorite skillet meal, Homemade Cheesy Tuna Helper.
When I made this a few week's ago, my family loved it. I had planned on there being enough for my husband's lunch the next day, but no, my kids had scraped the pan clean. That is how much all three of my kid's enjoyed this.
The homemade tuna helper took me awhile to get just right. Or at least how my family enjoyed it. Now, I will say that it has been years since I had any versions of the boxed tuna helper, so I am not sure the taste on this is exactly the same, but it is close.
In fact, I think it is better not just in taste, but in ingredients. I controlled what went into it and that always makes me feel better about a meal.
If you have never made a homemade version of hamburger or tuna helper I encourage you to give it a try. You may never go back to the box again. Homemade versions are so easy and so good!
And I am having a lot of fun coming up with new "helper" style meals so look for more homemade helper recipes coming up over the next few months.
What homemade helper versions do you want to see?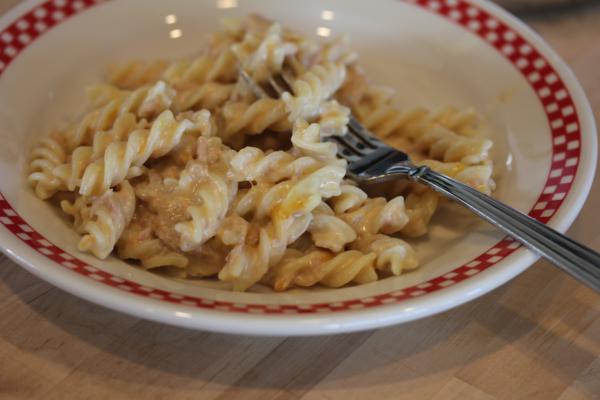 Homemade Cheesy Tuna Helper
12 ounces uncooked macaroni or similar type noodle ( I used a gluten free pasta and it worked great)
1 can chicken broth
12 ounces evaporated milk
12-15 ounces (or so) tuna- I like to use the foil pouches, but you can use cans just drain well
2 cups shredded cheddar cheese
salt and pepper to taste
frozen peas- optional
In a skillet or large pan heat broth and evaporated milk. Add pasta and bring just to a boil.
Reduce heat to simmer, cover, and cook for 10-12 minutes or until pasta is tender. You may need to stir once or twice while cooking.
Once pasta is tender, stir in tuna and cheese and heat over low just until heated through and cheese is melted. If adding peas, you can stir these in as well until heated through.
Note: Some in my family don't like peas, so I cook them on the side and those that like them just stir them in.