Easy Homemade Granola Bars
½ cup butter
½ cup brown sugar
2 tablespoons honey
2 tablespoons corn syrup
2  1/3 cups quick cooking oats
Grease and 8×8 pan. In a pan combine the butter, brown sugar, honey, and corn syrup. Stir constantly over medium heat until butter melts,  sugar dissolves, and mixture is smooth. Remove from heat and add oats. Stir well until oats are well coated. Spread mixture into 8×8 or similar pan. Bake at 350 for 22 minutes. Cool 5 minutes and cut into bars. Cool for about 1 hour more in the pan and then remove bars from the pan.
If you wait to cut and remove the bars from the pan until the pan is completely cooled, the bars will be very hard to remove.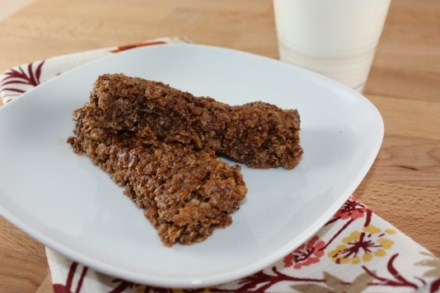 For different variations, stir in a few chocolate chips when you add the oats,
or for something even healthier, add a few raisins, when you stir in the oats.