Back in March, I posted about making homemade vanilla extract. I know several many people thought this was a strange idea. I am pretty sure my sisters thought I was a bit crazy for making it. But I really want to make most of our food from scratch and making homemade vanilla is so simple to do. I figured it was an easy thing make myself.
I started using my vanilla a few months ago and I love it. I really, really like the homemade vanilla. It has such good flavor. You can just tell by smelling it how much better it is.
One tip though is that I really should have let it sit longer. I was out of the store bought vanilla and I really hated to buy more when I had some almost ready to go. I started using it when it was about 4 1/2 months old and I really should have waited a while longer. The longer it sat the better it got. So, I am enjoying it even more now that it has sat longer and developed an even better flavor. It now has a much stronger flavor than it did when I first started using it.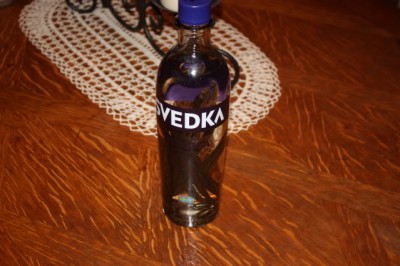 I have been enjoying the vanilla so much I started my second batch. I even have a friend from church now making it for herself. In fact we ordered vanilla beans from amazon and split them in order to make them cheaper for us to buy. I was not sure about ordering vanilla beans through amazon, but I read the reviews and decided it was worth the savings to give it a try. I was really happy with them, especially since they were so much cheaper.
One other thing that I did different this time was to use more expensive vodka. I know nothing about vodka, so last time we just bought cheap vodka. After talking to a friend and reading comments and emails from several of you, I realized I should not have used the cheapest vodka. So, this time I used better vodka and I think it will make a difference.
I can't imagine why I would ever go back to store bought vanilla. This is so simple to make and it is so much better.
Do any of you make your own vanilla?