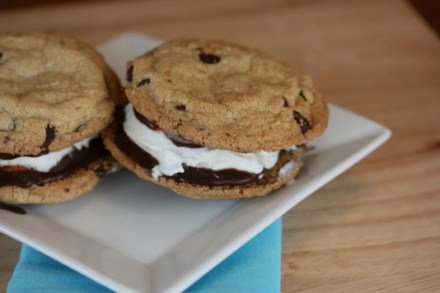 A few weeks ago for the fourth of July, I wanted to make something special for dessert, but because I wanted to enjoy the holiday, I wanted to be able to make the dessert ahead of time.
When I opened the July issue of Martha Stewart magazine, I knew I had the perfect dessert, ice cream sandwiches.
But because it was Martha, they were not just any ice cream sandwiches. These ice cream sandwiches were taken to a new level with some hot fudge sauce added to them.
Why had I never thought to do that. I have made ice cream sandwiches many times over the years and I never thought to add hot fudge sauce to them.
I decided to use my chocolate chip cookie and my gluten free chocolate chip cookie recipes to make these. I made them a little smaller, which worked well for this recipe since we were adding ice cream to it. Really, though you could use almost any homemade chocolate chip cookie for these. I think they would also be good with a peanut butter cookie.
These are a perfect treat for a hot summer day.
Hot Fudge Ice Cream Sandwiches
12 chocolate chip or other kind of cookies
hot fudge sauce ( I used homemade)
vanilla ice cream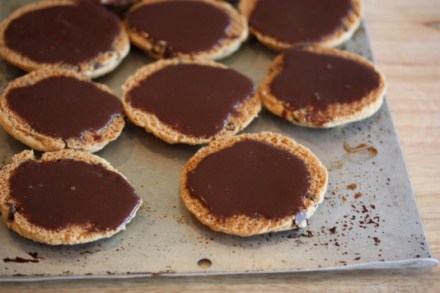 Spread hot fudge sauce on each cookie and place on a cookie sheet. Freeze for about 30 minutes to allow the hot fudge sauce to harden slightly.

Remove from freezer and add a large scoop of ice cream to six cookies. Top with the remaining cookies. Freeze until ready to serve.

Enjoy!