I am finally showing you how to cook bacon in the oven!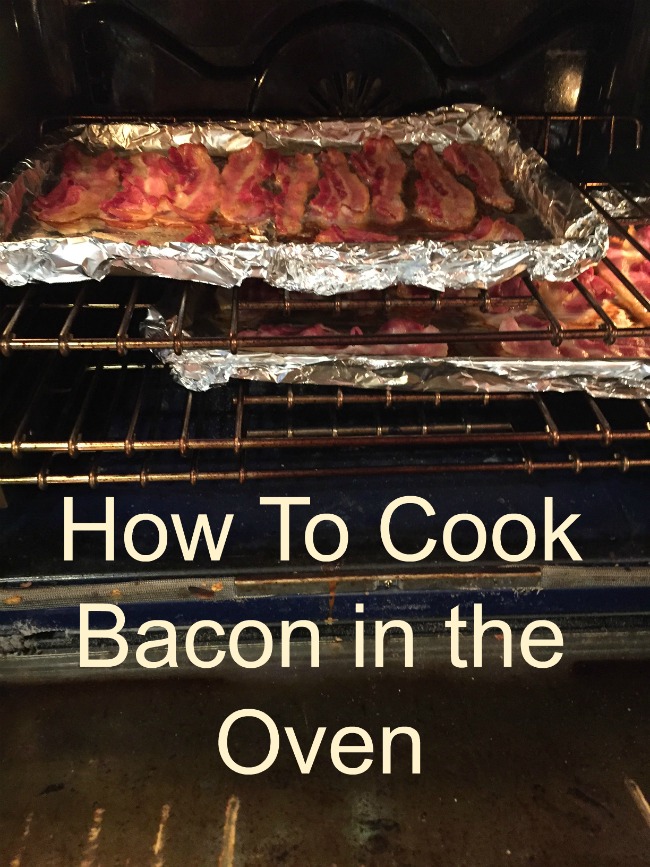 Cooking bacon in the oven is something that I have done for years, but have never posted about. Every time I mention that I cook my bacon in the oven readers ask me to share how I do it, but I have never done an actual post on it until today.
Today I am finally showing you how to cook bacon in the oven! If you have never cooked your bacon in the oven you should give it a try. It is so easy!
It is actually pretty bad that I have not done a post on this because we raise hogs and I cook a ton of bacon. Maybe not a ton, but since we raise hogs, I am guessing that we eat a bit more bacon than the average person. Or maybe a lot more bacon.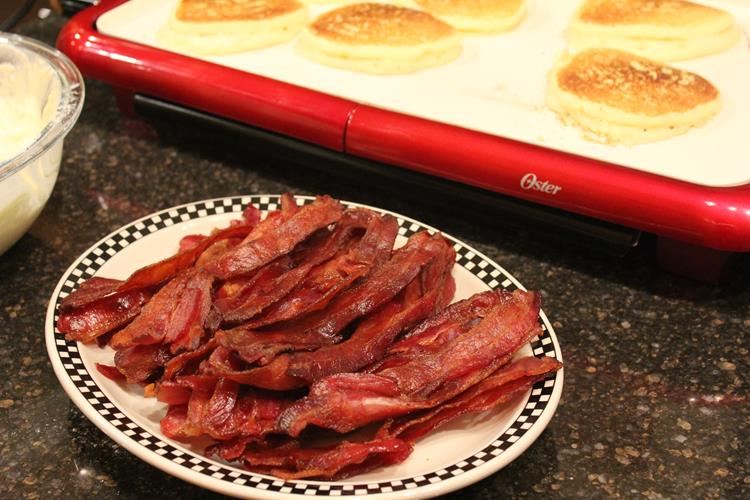 We do love our bacon. But who doesn't love bacon. Bacon makes everything better.
We love it for breakfast, for breakfast for dinner, on pizza, on grilled cheese sandwiches, in chili, in spaghetti, and more.
And don't even get me started on bacon grease.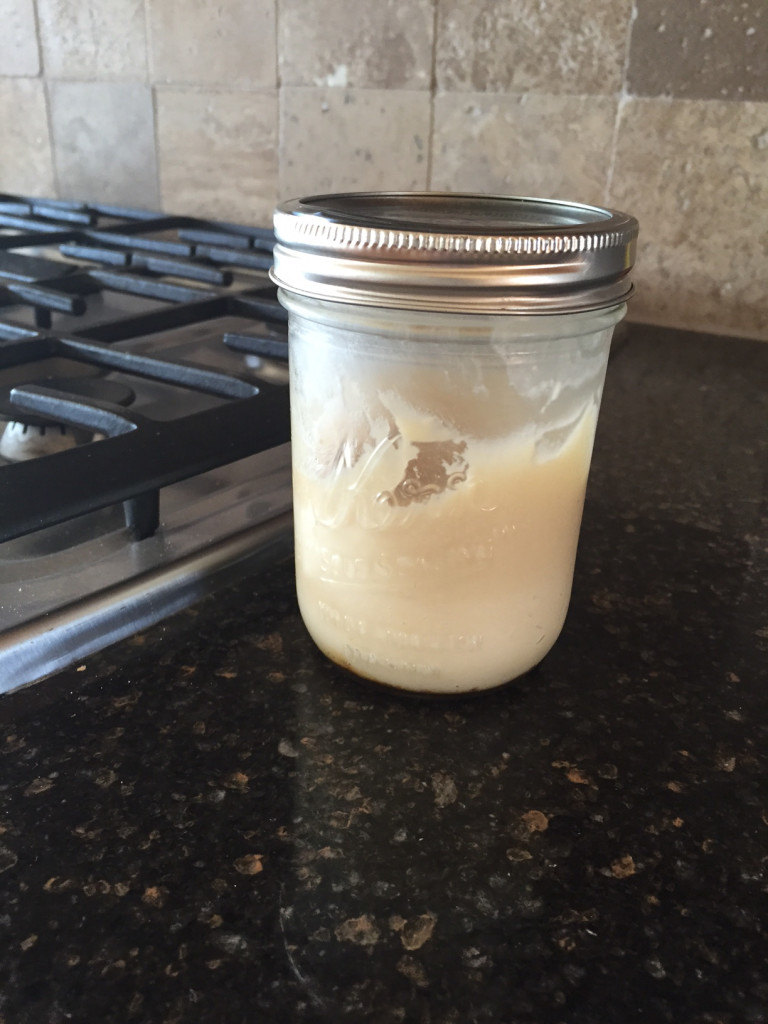 The best thing about bacon may just be the grease. If you are not saving your bacon grease you are missing out. Seriously I love my jar of bacon grease. I keep it in the fridge and use it all the time.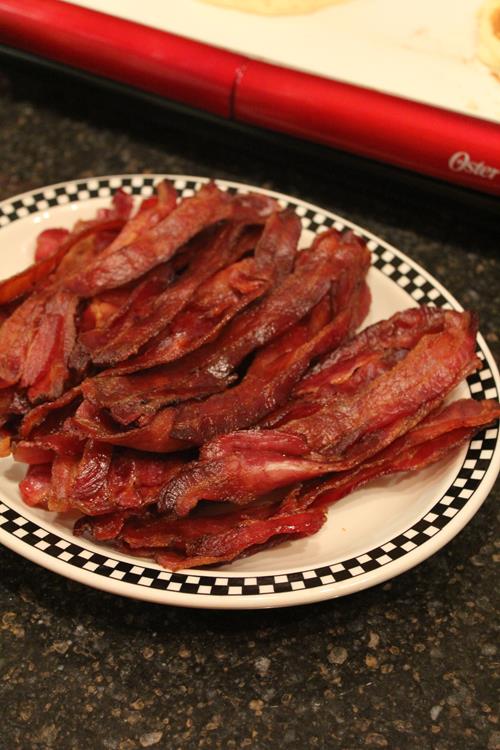 Now that I have talked about my love of bacon let's talk about how I cook my bacon.
Years ago a friend told me that she cooked her bacon in the oven. Then I heard another friend mention that she cooked it that way and I knew I had to give it a try. I think that was at least ten years ago and I have been cooking bacon in the oven ever since then.
Before I share exactly how to cook it I will say that there are some variables with cooking bacon.
The first one is the thickness of the bacon. Bacon can be thin, thick, or medium sliced. This can really vary with brand or butcher. Because the thickness can vary so much you have to adjust the cooking time accordingly.
The second thing that you have to account for is how you like your bacon. Some people like their bacon really crisp. Others don't. Some like it somewhere in between which is where my family falls. We don't like it overly crisp, but we don't like it really soft either. So the amount of time you cook the bacon will vary. That is why there is such a wide range of time in the directions. Just keep that in mind when you are cooking yours.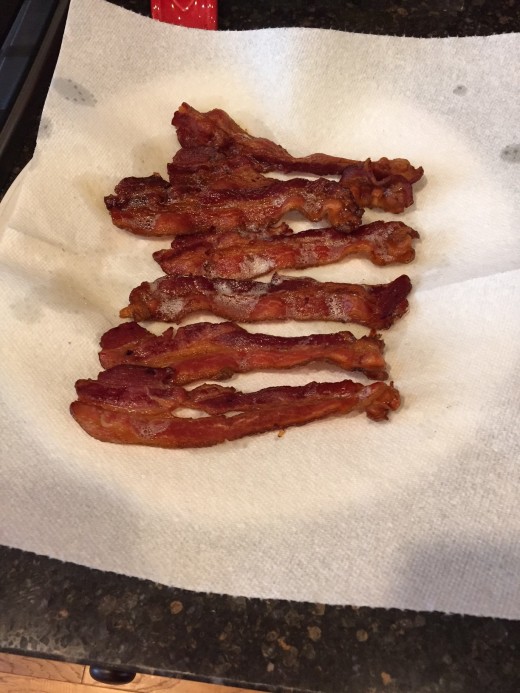 Yield: 8
How To Cook Bacon In the Oven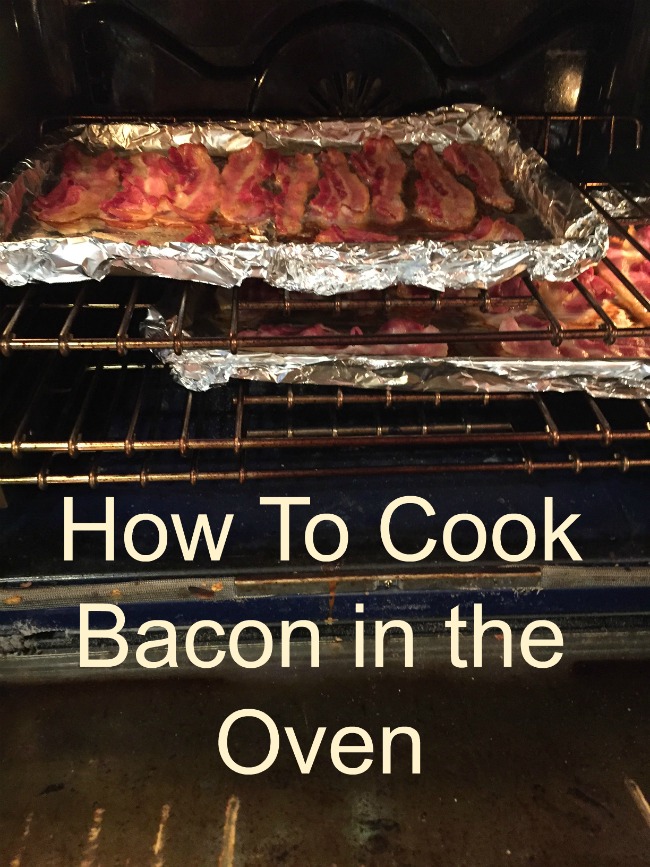 I am showing you how to cook bacon in the oven. It is my favorite way to cook it!
Ingredients
1 pound of bacon
cookie sheet or jelly roll type pan
aluminum foil or parchment paper- not necessary but makes clean up easier
Instructions
Preheat oven to 400.
Line cookie sheet or pan with foil or parchment paper. This is not necessary but makes clean up a lot easier.
Place bacon in a single layer on the pan.
Cook bacon for 15-20 for thinly sliced bacon and 23-30 for thick sliced bacon. The time will vary depending on the thickness of the bacon and desired doneness.
Place bacon a plate that has been lined with a paper towel and dab off some of the grease.
Serve and enjoy!
Notes
If you are gluten-free be sure to read the label to make sure that your bacon is gluten-free.
Nutrition Information:
Yield:
8
Serving Size:
1
Amount Per Serving:
Calories:

300
Total Fat:

21g
Saturated Fat:

7g
Trans Fat:

0g
Unsaturated Fat:

13g
Cholesterol:

56mg
Sodium:

986mg
Carbohydrates:

7g
Fiber:

0g
Sugar:

3g
Protein:

20g
Nutritional values are approxomite and aren't always accurate.