Do you know how to decrystallize honey?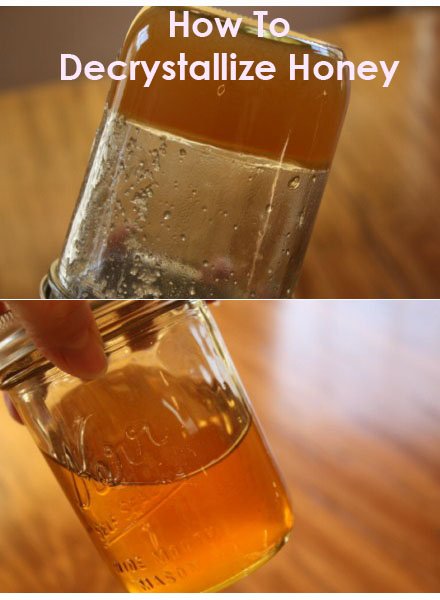 Today I want to talk all about honey. Growing up my dad always raised bees. My mom used the honey for baking and cooking and we loved eating it, but my parents also sold the honey to family and friends.
My dad did all the work when it came to the actual bees, but when it came to harvesting the honey, it was a family project.
I have some fun, and not so fun, memories of the hours spent in the kitchen harvesting honey.
The not so fun part was the hours of hand cranking the extractor that spun the honey out. Well, maybe not hours because we all helped, but it often felt that way.
And I can't forget the clean up. The sticky mess all over the kitchen, my poor mom she must have spent hours getting her kitchen back to normal.
But it was so worth it, there is nothing quite like fresh honey, or chewing on a honeycomb and enjoying the sweet stickiness that comes out.
There is nothing quite like looking at a counter full of honey jars that will last throughout the year.
Today I thought I would share a few tips that I learned over the years from my mom about honey.
One of the problems with honey is that it often turns solid. This is called crystallizing or crystallized honey. A lot of things affect why honey does this, but it often happens. So, what do we do about it when it happens.
First of all, you do not throw it out. I recently had someone tell me they threw it out because they had no idea that you could make it usable again.
Do not throw your honey out when it crystallizes. You can fix it. You can decrystallize honey.
There is nothing wrong with crystallized honey. You can eat it, but most people do not want to. The texture is very grainy and it is basically impossible to spread. So, what do you do to fix it?
You can microwave the honey to decrystallize it, but this is not the best way. The best way is low and slow.
You do not want to overheat the honey, so my favorite way to decrystallize honey is on the stove top because it is much easier to control the temperature.
I always keep my honey in a glass jar. We will discuss that in a minute, but a glass jar is also important for the decrystallization process.
I place the glass jar in a pan of water on the stove. This is why glass is important. It is not a good idea to put a plastic container in a pan on the stove. That could turn into a dangerous mess.
Turn the burner on medium low to heat the water. Leave the lid on the jar, because you do not want moisture getting into the honey, but don't put the lid on too tight. Simmer on low for 20-40 minutes. Or until honey is thinned out and back to normal.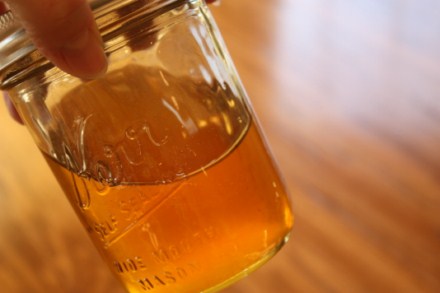 See how pretty that is? Nice golden honey just the way it should be.
Here are a few other honey tips:
Do not store honey in plastic containers long term. They will pick up the taste of the plastic. I can almost always taste honey that has been stored in plastic containers. I do have a small honey bear that is plastic, but we go through this so fast that it does not matter so much. For long term storage, use glass.
Buy your honey from a farmer's market or local source. I do not buy honey from a grocery store unless I have to. I always try to buy it as fresh as I can. The best way to do this is to buy it from a good source. Grocery stores are great for many things, but honey is not one of them.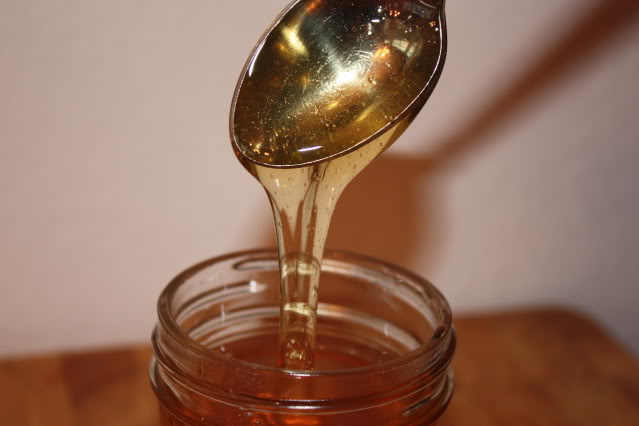 Experiment with different flavors of honey. I think it is fun to try the different variations of honey. Clover honey will taste different than blackberry honey.
Honey where the bees have been in an orchard will taste different than honey from bees that have been in a berry patch. If you have never tried the different versions, you should. You might just be amazed at the difference.
Recipes using honey:
What honey tips do you have?