It is so important to encourage healthy eating in kids. If kids learn healthy eating at a young age it is much more likely to be an important life long goal for them.
Often times though healthy eating is a hard battle with kids. The temptations of junk food and sweet treats are everywhere. Now, I am not saying that those things are wrong.
If you have read my site for any length of time, you know I love a good cookie or other treat, but moderation when it comes to treats has to be the focus. Sweet treats and junk food should not be the mainstay of our diets.
So, how do we get kids to realize the importance of healthy eating?
You serve them healthy food and you serve them healthy food that tastes good.
I also try to teach my kids about making healthier choices. Teach them to make wise choices with the foods that are before them.
For example, neither item A or item B may be very healthy, but usually one of them is a healthier choice. Teaching them to choose the healthier one is very important.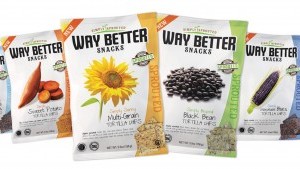 Teaching kids the importance of healthy eating is why I love companies like Way Better Snacks. They promote healthy eating and making wise choices when it comes to food.
I think all kids love to snack and most love to snack on chip and dip type items. So, why not teach your kids to make better choices when it comes to choosing their chip and dip type snacks?
Way Better Simply Sprouted Tortilla Chips are sprouted, gluten free, kosher, Non-GMO, and they taste great. These are chips that your kids will love. They will not even realize that they are eating a healthier type of chip.
Way Better Snacks has come up with a fun video to share about their chips and promote healthier eating. It is a fun way to start a conversation about healthy eating with your kids.
And don't forget that in honor of October being National Non-GMO Month, Way Better Snacks is celebrating by giving away five (5) cases of Way Better Snacks Simply Sprouted Tortilla Chips. So that you can Eat Better. Live Better. Be Better. To enter this giveaway please click here and enter. Giveaway ends October 31, at Midnight.
Note: I have been selected by Way Better Snacks to participate in their Brand Ambassador blogger program. While I have been compensated for my time, my opinions are my own, and I have not been paid to post positive comments.