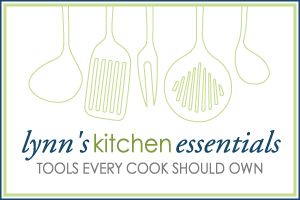 I know this series is called Lynn's Kitchen Essentials, but today's essential is a guest post by my sister Flora. Flora is a great cook. We have spent many hours on the phone talking about food and recipes. I was so glad that she agreed to guest post for me today. I love the item she picked for a kitchen essential. I could not agree with her more on how important it is in the kitchen.
I am Lynn's sister, Flora and like Lynn I love to cook and bake. When we were kids our mom worked nights, leaving Lynn and I with much of the kitchen responsibilities; so we have been having our own "kitchen adventures" for years. Lynn actually bought me my first cooking magazine subscription, Taste of Home, and I have been in love with all things food ever since. 
I think it is very interesting to discover what other cooks find "essential." Kitchen cupboard and drawer space is prime real estate at my house, so I am careful what gadgets I acquire. I don't buy every new kitchen item that hits the market.
So, what is one my kitchen essentials? The thermometer. Yes, folks, I couldn't cook without thermometers, well I could cook, but I certainly couldn't cook as well. And I think everyone should have at least three.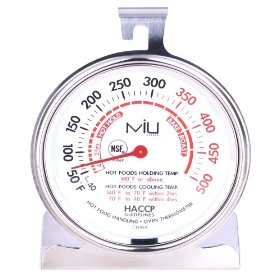 First, you really need an oven thermometer. They aren't expensive, typically less than $10, and can be purchased at nearly every store that sells kitchen items, including grocery stores.
It is quite disappointing to find out that a large percentage of ovens, even new ovens, are not accurate. Don't just set the oven to preheat and assume it is actually the correct temperature in 15 minutes, it probably isn't. And nothing will ruin your baked goods quicker than cooking at the wrong temperature.
I have read that ovens have hot spots, so you should place your oven thermometer next to where your food will be cooking; not sure how practical this is, but most oven thermometers I have seen are very easy to move, so I would at least put it in this location a few times to get an idea of your oven's accuracy and move it out of the way later if necessary.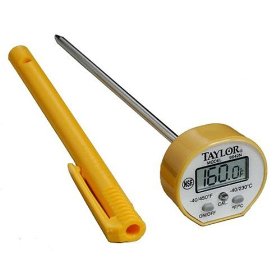 The second thermometer you need is an instant-read meat thermometer. I have three of these, all received as gifts, and I like the simplest, least expensive one the best. You just insert into the center of your meat and get an instant reading. It is truly the easiest way to make sure meat is cooked to perfection. I really recommend you get one that has the USDA cooking temperature guidelines on it, that way you don't have to remember what temperature pork is safe at versus chicken.
Instant-read thermometers are also great if you are serious about baking bread; most recipes from professional chefs will state the internal temperature the bread should reach. The only way I know to get this information is an instant-read thermometer.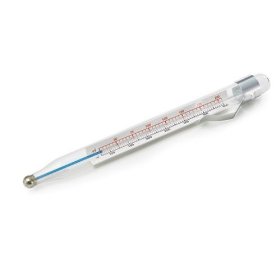 The last thermometer you need, you probably already own; shoved in the back of one your kitchen drawers is most likely a candy thermometer. These are very inexpensive and are a must-have for any home candy making. Even if you never plan on making your own toffee and fudge, you will find this helpful when making puddings, deep frying, or simply checking the temperature of water for proofing yeast.
Even if you have the best knives, the freshest ingredients, and the perfect recipe, if you don't know what temperature you are cooking at, your results are unpredictable. Kitchen thermometers, they're essential.