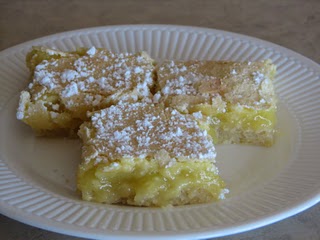 This recipe is one my mom has been making for years. It was one of my favorite deserts growing up. I love lemon and these have a great lemon taste.
It is a quick, easy, and inexpensive desert. I usually have everything on hand to make them. I think they are also a great summertime dessert because they are not heavy.
I took them to a church dinner on Sunday and they were a hit.

Lemon Bars
1. Crust
1 cup butter
½ cup powdered sugar
2 cups flour
Mix powdered sugar and flour. Cut in butter. Press into 9×13 pan. Bake at 325 degrees for 20 minutes.
2. Filling
2 cups sugar
4 tablespoons flour
4 tablespoons lemon juice
4 eggs
Beat together until well mixed. Pour over warm crust. Return to oven and bake for 25 minutes. Sprinkle with powdered sugar. Cut when they are still slightly warm.