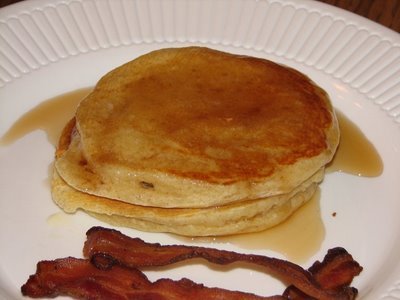 I have been experimenting with making my overnight pancakes healthier for a while now. I have tried several versions using different amounts of whole wheat and/or ten grain flour. They have all been really good.
The basic version of this pancake recipe has become one of my favorites because you make the batter up ahead of time. It is so nice when I don't have to do anything in the morning, but cook something. I also like this recipe because leaving the batter to sit overnight helps soften the wheat and make the whole wheat less noticeable.
My sister has recently been telling me that she is adding ground flax to many of her recipes in order to make them healthier. She said adding it to pancakes worked great. I decided to give it a try. I added 1 tablespoon of ground flax to the batter when I added the flour.( I did not use the ten grain flour just ww and regular) When we had the pancakes the next day no one noticed that they had flax in them. It worked great and I will definitely be putting it in my pancakes again.
I think this is a great way to make my pancakes even healthier.
For more kitchen tips see Tammy's Recipes.