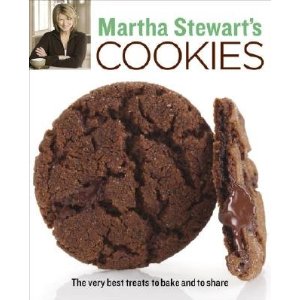 Giveaway ended
Here it is the end of May and I just realized that I have not done a cookbook giveaway this month. May went by so fast. I do not know where this year has gone.
If you have read my site for long you know how much I love to make cookies. They really are one of my favorite thing to make. I love experimenting with all different kinds and variations of cookies. I think I like making cookies so much, because each recipe is similar, yet so different.
When Martha Stewart came out with her cookie cookbook I knew it would be a good cookbook. Then once I saw the cookbook in person, I knew that I wanted it. I love this cookbook.
One of my favorite things about this cookbook is the layout. This cookbook is divided into sections like soft and chewy, chunky and nutty, and crispy and crunchy. Not only that it has a picture of every recipe in the book.
Because I love this cookbook so much, I am giving away two copies.
This giveaway will end Tuesday June 1, 2010, at 6:00 pm.
US residents only please.
For a chance to win one of the two copies of the cookbook:
All you have to do is leave me a comment
For bonus entries: (please leave a separate comment for each bonus entry)
If you are a subscriber to my site, thank you, leave me a comment letting me know that you subscribe. If you are not a subscriber yet, you can sign up for my free updates via email or RSS and then come back and let me know you subscribed.
If you are a facebook fan leave a comment letting me know, if you are not a facebook fan become one and come back and let me know that you became a fan.
If you received this post through email, please click through to my site to enter.
And Martha has no clue who I am, I just love this cookbook. But anytime Martha wants to send me a cookbook to review or giveaway I will be glad to. 🙂