Martha Stewart's Deviled Eggs recipe from her American Food Cookbook might be the best deviled eggs that I have ever had.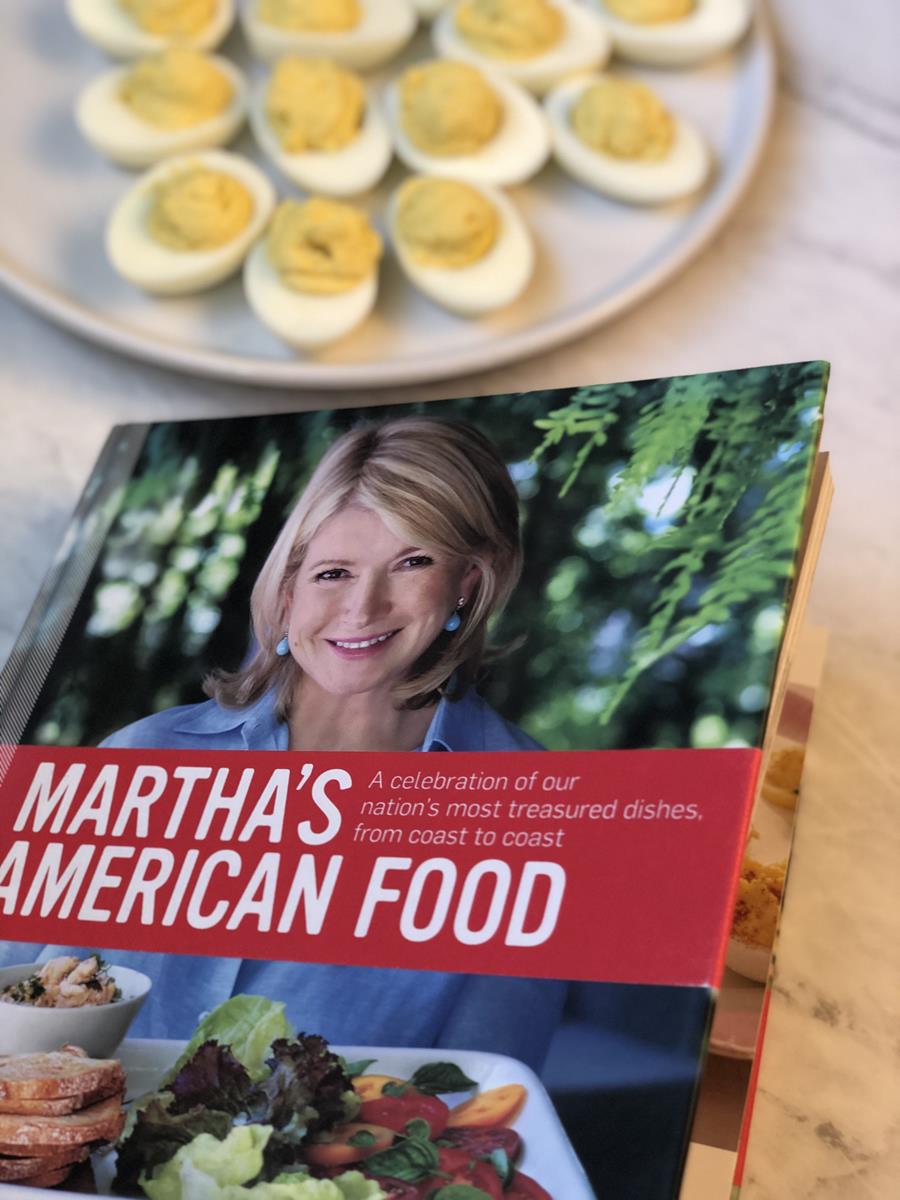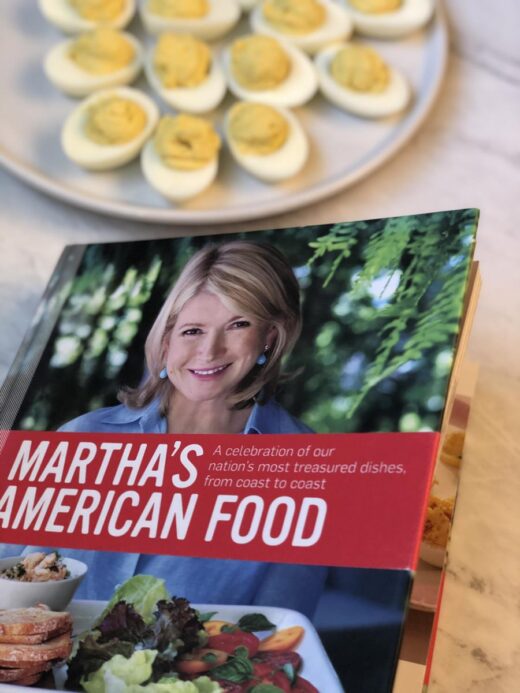 A Year of Martha Stewart Cooking
I loved all the responses I received about my year of Martha Stewart Cooking Challenge.
I had a few people ask how often I was going to make a recipe and how often I was going to post one. My goal is once a week.
I don't want to overwhelm my site with Martha Stewart talk. I also don't want to overwhelm myself with having to cook a daily Martha Stewart recipe or anything like that.
Once a week seems very doable to me. I can easily make on recipe a week and share it here on my site.
I also plan to keep this series real. I will share the recipes that work and the ones that don't. I will also share what I changed to fit our needs and likes or dislikes.
I am not going to just share Martha Stewart recipes, I am going to share all the details I can about trying them.
Look for new Martha recipes every Wednesday! And don't worry I will still be sharing all my normal recipes, tips, etc. too. This series is just a way challenge me to try new things.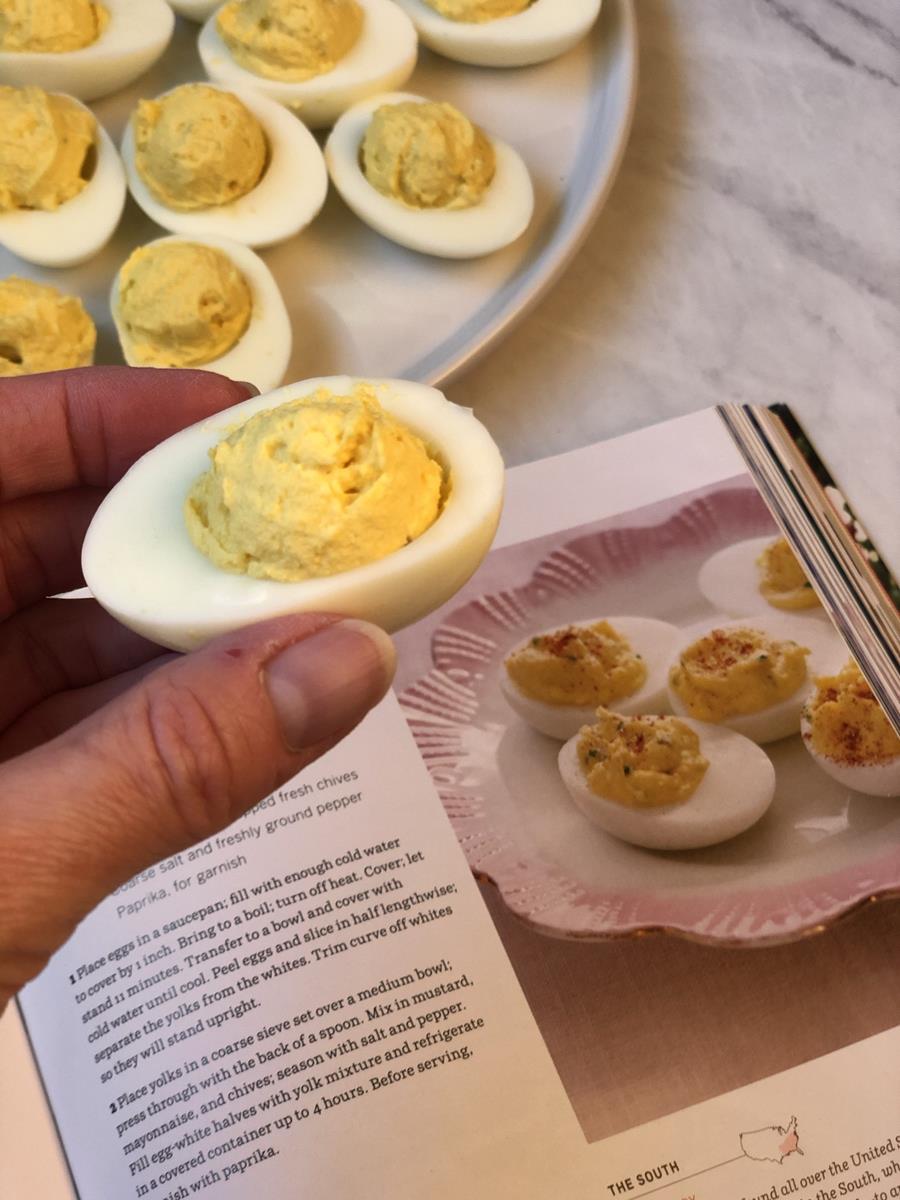 Deviled Eggs
My family loves deviled eggs. They are one of our favorite things to take to picnics and church potlucks.
Yes, they are an old fashioned recipe that not a lot of people make anymore, but they are so easy to make using basic ingredients.
All you need for a good basic deviled egg recipe is a few ingredients that most of us always have on hand.
eggs
mayonnaise
mustard
salt
paprika, optional
Deviled eggs are also gluten free. That means they are a normal food that is gluten free. I love recipes like that.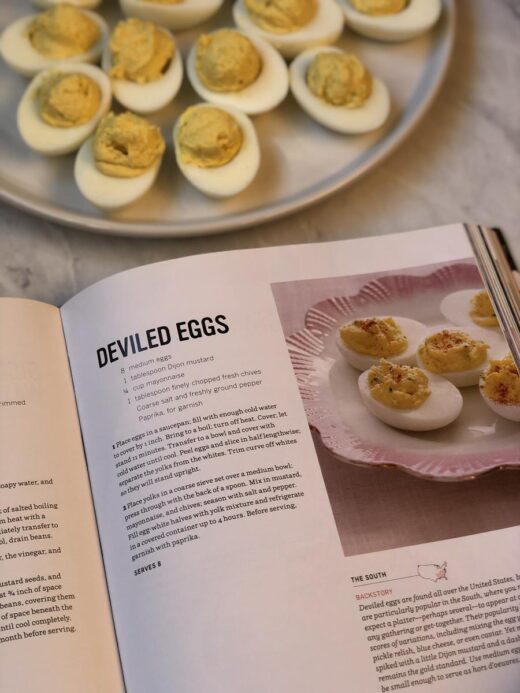 What makes Martha Stewart's Deviled Egg Recipe so good?
Martha Stewart's deviled eggs recipe is nothing fancy. At least the deviled eggs recipe in her Martha's American Foods cookbook is not.
I have seen her make very fancy deviled eggs recipes on her show, but this one is a classic old fashioned deviled eggs. I think that is why I loved it. It is a simple and delicious recipe.
I will also admit that I probably liked these deviled eggs so much because I actually followed the recipe. Well, except for the fact that I left the chives out and didn't sprinkle the paprika on top. I didn't have chives and some in my family don't like the paprika on top.
As far as the egg to mayonnaise to mustard ratio though I followed the recipe. I don't usually follow a recipe for that part.
Normally I just boiled eggs, mash the yolks and add some mayonnaise and mustard to it. I don't measure anything. They usually turn out fine. But when I followed Martha's recipe for deviled eggs they turned out perfectly. Maybe I need to follow an exact recipe more often…
Martha's Deviled Eggs recipe from her Martha's American Food Cookbook will now be my go to deviled eggs recipe.
How To Boil Eggs for Deviled Eggs
When I make boiled eggs for deviled eggs I use my Instant Pot Boiled Eggs Recipe which is my favorite way to make eggs. Martha Stewart though also has great tips for basic boiled eggs. Either way will work for this recipe.
Martha's American Food Cookbook
A note on Martha's American Food Cookbook. I bought this cookbook back in 2012 shortly after it first came. I think I paid around $20 for it. The price for this cookbook is now twice that amount…
I love this cookbook and have used it a lot, but I am not sure it is worth the current price. Just keeping it real. 🙂 This is one that I would look for used or borrow from your library.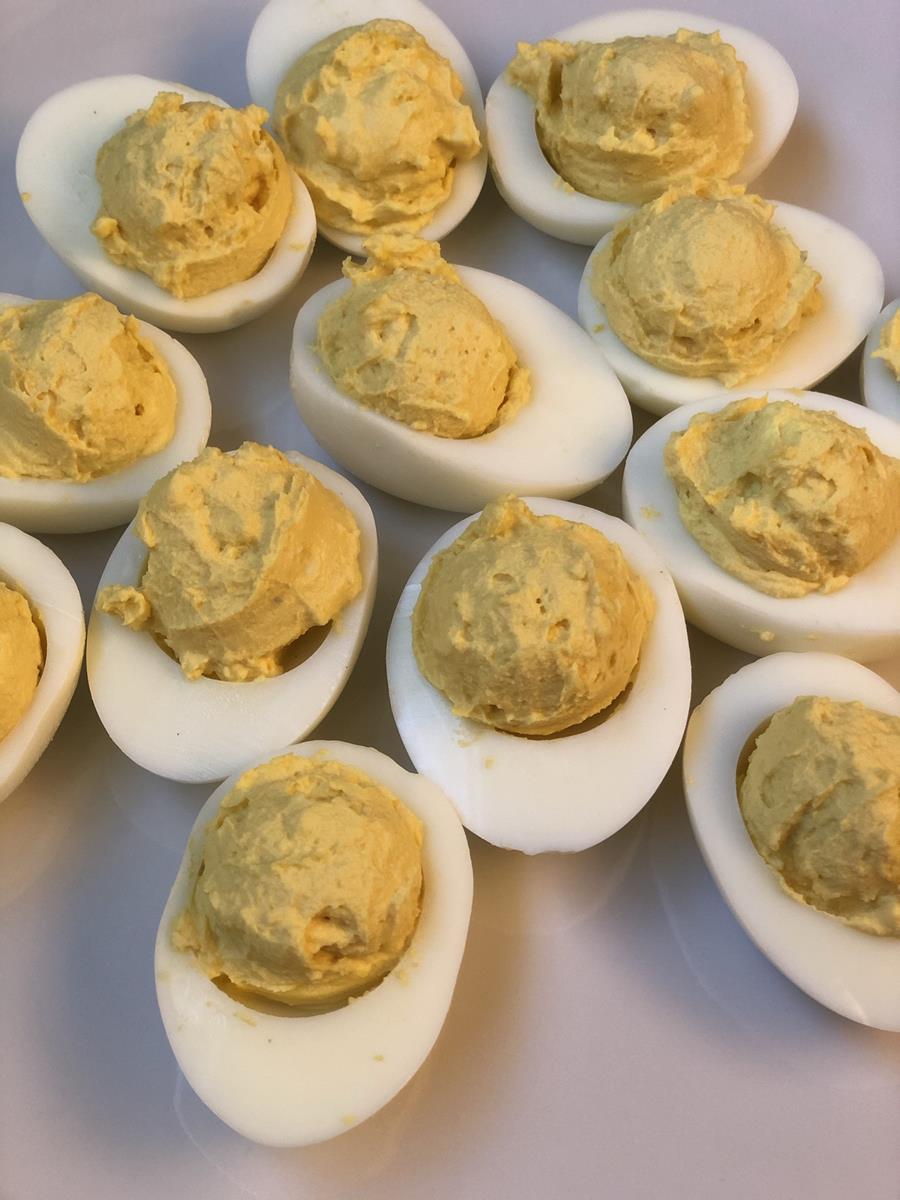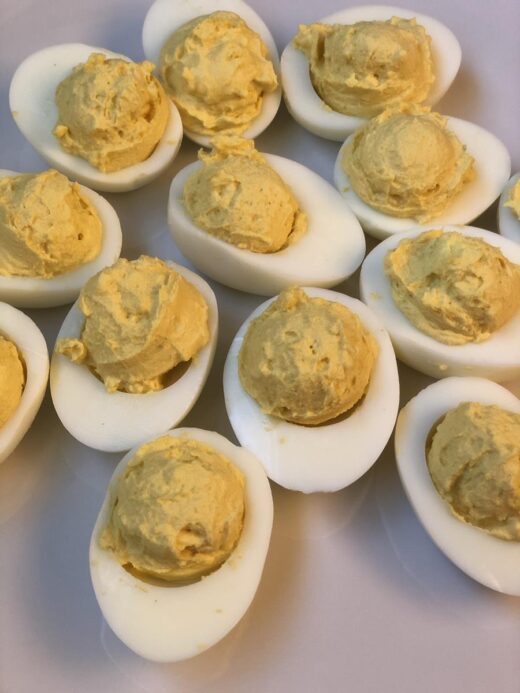 Yield: 16 servings
Martha Stewart's Deviled Eggs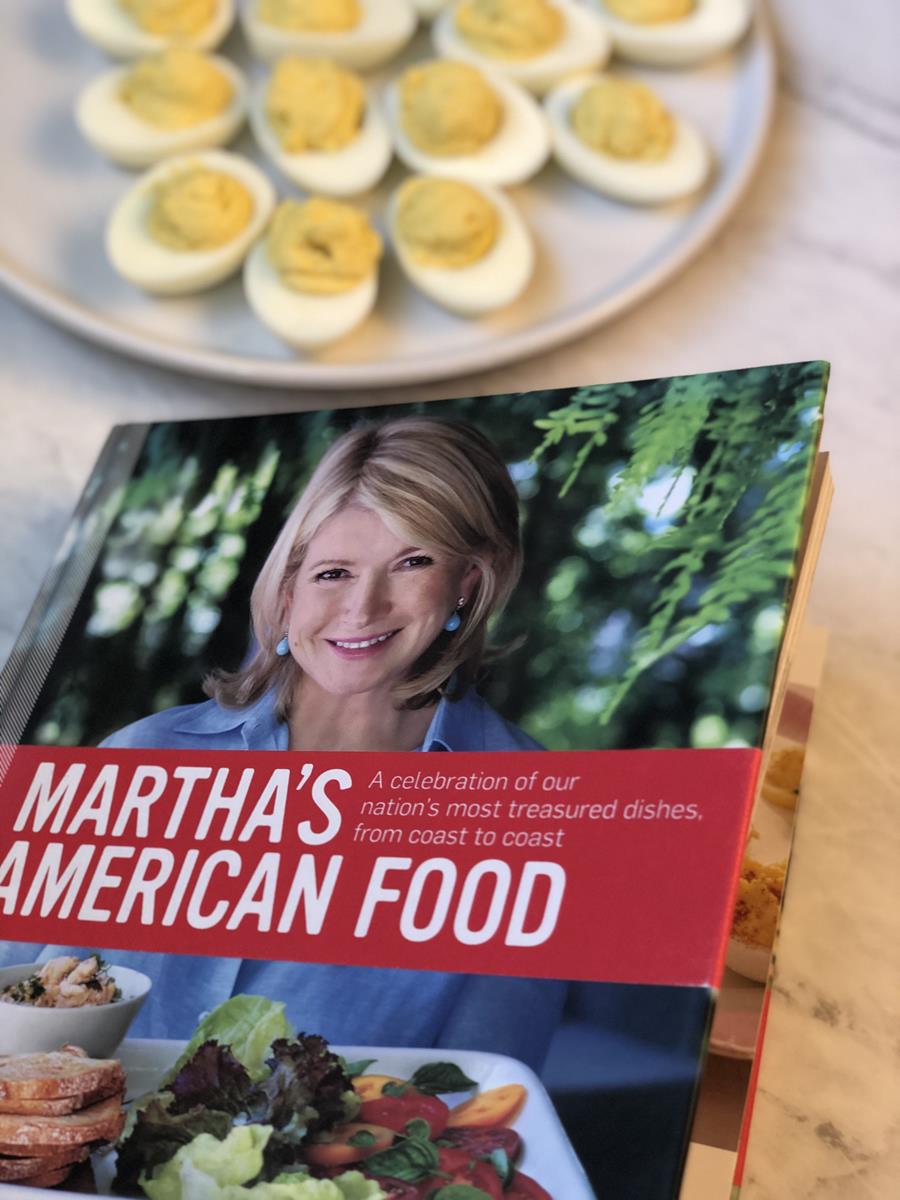 Martha Stewarts Deviled Eggs are a simple old fashioned deviled egg that is easy and delicious.
Ingredients
8 eggs
1 tablespoon Dijon mustard
1/4 cup mayonnaise
1 tablespoon chives, finely chopped, optional
paprika for sprinkling on top, optional
Instructions
Boil eggs either on the stove top, make Instant Pot Boiled Eggs, or make them your favorite way.
Cool eggs in ice water. Once they are completely cooled peel eggs.
Slice eggs in half lengthwise.
Remove yolks and place them in a bowl.
Mash yolks using a fork or potato masher. See note below.
Add in mustard, mayonnaise, and chives if using.
Mix until well combined and mashed.
Fill egg white with filling.
Refrigerated until ready to use.
Notes
For the egg yolks Martha presses the yolks through a sieve using the back of a spoon. I found that mashing them with a potato masher worked just as well. If you are doing a large amount you can also mix them in a food processer.
Nutrition Information:
Yield:
16
Serving Size:
1
Amount Per Serving:
Calories:

60
Total Fat:

5g
Saturated Fat:

1g
Trans Fat:

0g
Unsaturated Fat:

4g
Cholesterol:

94mg
Sodium:

83mg
Carbohydrates:

0g
Fiber:

0g
Sugar:

0g
Protein:

3g