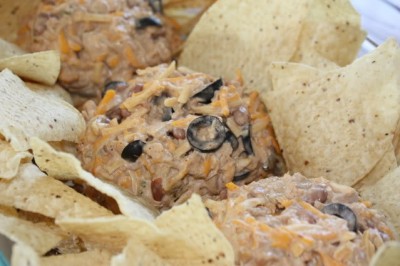 Have you ever had Mexican Chicken Salad? It is really good. This recipe comes from my friend Susan. She has brought this chicken salad to church dinners several times over the last few years. I have always enjoyed it and  have wondered exactly what was in it.
When I was deciding what I wanted to make for this week's office lunch, I thought this chicken salad would work great. I wanted to keep things simple and light. Not necessarily light on calories, but something lighter like salad and chips and dip. I knew it would be hot, so I did not want to make a casserole or lasagna that would use the oven. I knew this Mexican Chicken Salad was good and something a little different than your regular chicken salad.
I asked my friend Susan for the recipe and she emailed it to me. When I saw the recipe I was glad it was so easy and something that could be made ahead of time.
I will say though, that this is really good, but it is not the prettiest of foods to serve. So, I suggest you try to present it in a way that makes it look really nice. Susan serves this on scooped on lettuce leaves. I served it with three scoops in a 9×13 pan with chips spread around it, since it works great as a dip for chips.
My kids and I  took some of this and spread it on tortillas. This made a really good chicken tortilla sandwich. We all liked it this way. I will definitely make this again to serve to my kids as tortilla sandwiches. It makes quite a bit, so if I made it up we could use it for lunches for several days. It would be an easy and healthy lunch to have on hand.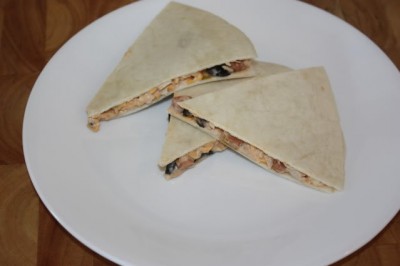 Mexican Chicken Salad
4 c chopped chicken
2 c shredded cheese
1 can Ranch style beans, partially drained
2 T chopped red bell pepper ( I left this out)
2 T chopped green bell pepper ( I left this out)
1 4 oz can green chilies
1 pkg. taco seasoning
1/2 c sour cream
1/2 c mayonnaise
I added sliced olives and you can also add tomatoes to this.
Mix all together and serve with chips or tortillas.