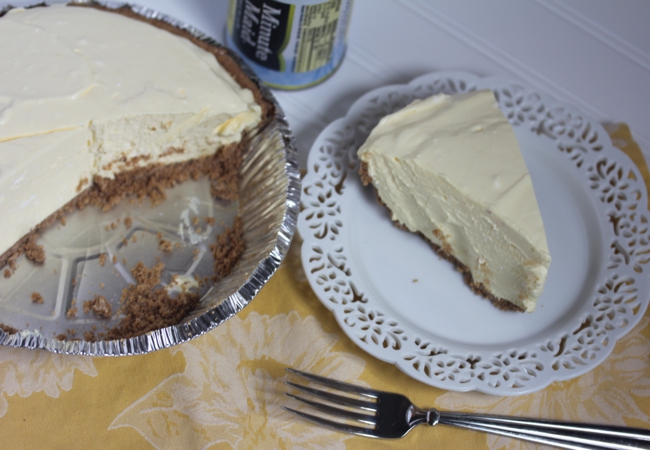 This recipe for creamy lemon pie is one I shared in the early days of this website. It was actually during the first few months. Blogging has changed a lot since then, especially when it comes to pictures. So, I knew it was time to update this family favorite lemon pie recipe.
This pie recipe comes from my mom and we all love it. She has been making it for years. It tastes great, but what I love most about it is how quick and easy it is to make. This is a dessert that takes about 5 minutes to put together. You cannot get much quicker than that when it comes to dessert. It does have to set up in the refrigerator for several hours, but the actually making of it is so easy.
If you need a simple dessert to make this weekend, this is a must try.
Mom's Creamy Lemon Pie
1¾ cups cold milk
2 packages (4 serving size) vanilla instant pudding
1 6 ounce can frozen lemonade, thawed
1 8 ounce tub whipped topping, thawed
1 prepared graham cracker crust ( I used a gluten free crust)
Pour milk into a large bowl.
Add pudding mixes and whisk for about 30 seconds. Add lemonade concentrate.
Whisk for about 1 minute more or until mixture is thick.
Immediately stir in whipped topping and spoon into crust.
Refrigerate 4 hours or until set.