One of my favorite meals or sides dishes this time of year is salad
It is a quick and easy meal to serve that is also healthy. Plus it is a vegetable type dish or meal that my kids love.
One of the easiest ways to change up your salad is with the dressing you put on it, especially if you make your own dressing or vinaigrette.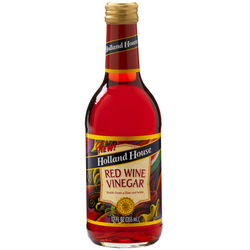 Homemade dressing contains regular everyday pantry staples like vinegar and oil, so it is easy to make with the items you have in your kitchen.
I like to change it up by using different flavors of vinegar and my favorite vinegar to use is Holland House Red Wine Vinegar. It gives homemade dressing a really nice flavor.
Have you ever made your own salad dressing or vinaigrette? 
Mustard Vinaigrette
1/4 cup Holland House Red Wine Vinegar
1 tablespoon mustard
1 teaspoon salt (or to taste)
1/4 – 1/2 teaspoon ground pepper ( or to taste)
3/4 cup oil ( I use canola or vegetable oil)
In a blender combine all ingredients until well mixed. You can also do this  by hand and whisk well, but I like the texture better when it is mixed in a blender.
Serve over salad and refrigerate any leftovers.
Disclaimer: I am compensated for my time in working with Holland House, but my thoughts and opinions are my own.