Note: If you have read my blog for long you will recognize this post. I had planned on posting a new recipe for Slow Cooking Thursday but do not have time to post it. I decided instead to repost one of my favorite crockpot meals, grits for breakfast. I hope you enjoy. For more great crockpot recipes see Slow Cooking Thursday.
I am a northern girl. I am from the northwest. Being from OR, grits are not on my top ten list of favorite foods. Now that I live in a more southern state I have learned that grits are a staple to most people. My husband and girls love them and will eat them several times a week for breakfast. My husband though likes the real grits not the quick instant ones. He likes the stone ground yellow grits. He says that they stick with you better than the instant ones.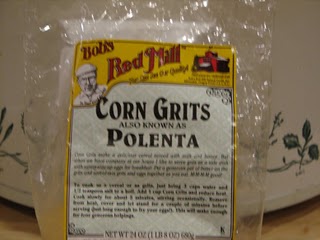 I have tried to make grits several ways. I usually make them on the stove top or in the microwave. I have also tried them in the crockpot. When I tried them in the crockpot though I ended up with a dry, burned mess, that was just about impossible to clean up. I know others say it works great. But I have not had it turn out well.
I have also tried cooking oatmeal in the crockpot. The idea of this is so appealing because you would have a nice warm breakfast waiting for you in the morning. Once again I ended up with dry, burned on mess. I came across a blog though that had a method for cooking oatmeal in the crockpot that I had never heard of before. She described how she basically gave them a water bath, similar to how you would cook a custard in the oven. This creates steam so the oatmeal would not dry out. I was very interested in this method.
Recently on the blog crockpot365 she made grits. She made them the way I had done it before. She said they were good. I don't know what I have been doing wrong. Others have it turn out well, but not mine. This inspired me though to try grits in the crockpot again, but I was going to try it the way I had read about making the oatmeal. I would place some water in my crockpot and place the grits in a bowl that fit in my crockpot.
So, I used the crockpot365 recipe with the method from Ann. We loved the results. Even me, the person that really does not like grits, liked them. They were so good. They were creamy and smooth. We sprinkled a little cheese on them and they made a wonderful breakfast. My husband said he thought it was the best way to cook grits. He said the texture was perfect.
I will definitely be making this again. We all thought they would make a great addition to our breakfast choices . And I like them because you have a nice hot breakfast waiting for you in the morning.
Here is what I did.
1 cup stone ground grits
5 cups water
2 tablespoons butter ( the recipe called for 1/4 cup, I think that is a little much 🙂
1/2 teaspoon salt
I placed the ingredients in a bowl that fit in my crockpot. I filled the crockpot with a couple of inches of water. You want the water to go about 3/4 of the way up the filled bowl when placed into the crockpot. I then placed the bowl of grits in the crockpot that had a couple of inches of water in it. Place the lid on the crockpot. Cook on low for 7 – 8 hours. In the morning sprinkle with cheese and enjoy!