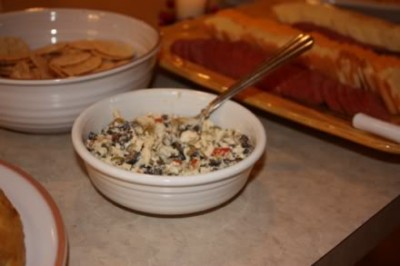 I loved this cheese spread. My dad would also love this recipe, because he loves olives more than I do. Seriously, he would eat olives on just about anything. So, when I served this at our office party I thought of my dad.
This is based on the Pioneer Woman's Recipe. I did change it just a little and we preferred it as a dip, not on bread. This recipe is in her new cookbook  The Pioneer Woman Cooks: Recipes from an Accidental Country Girl
. Which by the way is really good. Yes, many of the recipes can be found on her site, but I love them in book form. I almost did not get this cookbook since I am now eating gluten free, but I decided to buy it when I realized that there were still quite a few recipes that I could make or easily adapt to be gluten free.
If you are looking for a gift for someone who loves to cook, Pioneer Woman's cookbook would make a great gift.
I liked this recipe because I could make it ahead of time. This could easily be made the day before you are going to serve it.
This recipe is for an olive cheese bread, but at the end of the recipe it says that you can also serve on crackers. I served it both ways at the party and I loved it as a spread for crackers. I was not able to try it on the bread, but everyone seemed to enjoy it that way also. However, if I serve this again, I will serve it as a spread for crackers. That was the easiest way to serve it and it was delicious that way.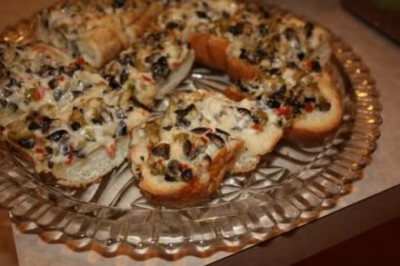 Olive Cheese Spread
6 ounces of pimiento stuffed green olives
6 ounces of black olives
1/2 cup butter, room temperature
1/2 cup mayonnaise (use mayonnaise here, miracle whip or salad dressing would not be the same)
1 1/2 cups shredded monterey jack cheese
Chop the olives.
Combine with the remaining ingredients.
Refrigerate until ready to use.
Serve on crackers, this is our favorite way to eat it.
Or if you are severing on bread, spread mixture on french bread and bake at 325 for 25-30 minutes and serve immediately.
This recipe
works for me
. This post also linked to
Food On Fridays
.