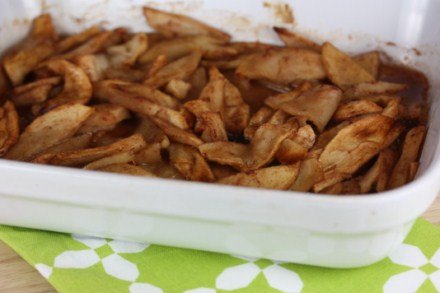 Fried apples are a classic old fashioned dessert that is perfect for fall.
I recently made an oven version of fried apples and was mentioning to my mom exactly what I had done and how much we enjoyed them.
Her reply was something like this, "Lynn I remember oven fried apples being one of the first things your grandma showed me how to cook."
Well, I guess there is not much new in the cooking world. Here I thought this was a great idea and the great idea has been around for years and years, probably generations.
I don't remember my mom making anything like this when I was growing up, but I guess she did.
My mom also mentioned to me that my grandma often added raisins and nuts to her fried and oven fried type apples and that it was really good. Since we can't have nuts, I will not be trying the nut version, but if you can have nuts I think that would make a great addition stirred in and baked with this.
These oven fried apples are perfect served on their own, but they are really good served over ice cream, french toast, pancakes or even crepes.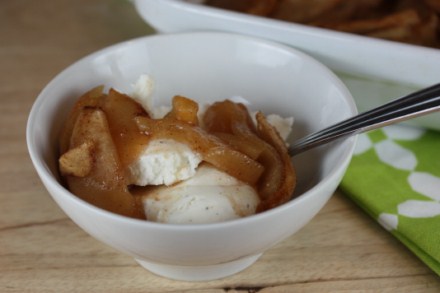 Oven Fried Apples
8-10 apples, tart varieties like granny smith are best, but I have used other kinds or mixed them. I really just use what I have.
1/2 cup white sugar ( If you are using a sweeter apple you can decrease the sugar.)
1/2 cup brown sugar
2 teaspoons cinnamon
1/2 cup butter, melted
Peel, core, and slice apples.
Combine apples with the remaining ingredients and pour into a 9×13 pan.
Bake at 350 for 45 minutes or until apples are tender.
Serve and enjoy!