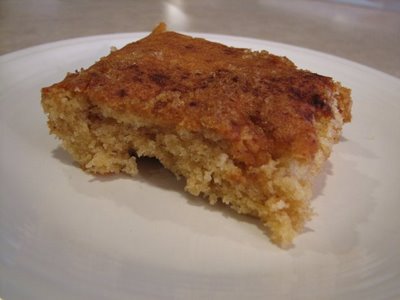 My kids love hearing that we are having cake for breakfast. They think it is great. I think this recipe is great because it is a make ahead breakfast. You do all the work the night before and just place it in the oven in the morning. Recipes like this work for me.
I also like the fact that this recipe contains whole wheat. It makes it healthier which is always a good thing. I have made a similar recipe for several yeas now, but it contained all regular flour. I tweaked the recipe and came up with this whole wheat version. I was very happy with how it turned out and I have made it several times now. My kids hope I continue to make it often. They like it that much.
Overnight Whole Wheat Breakfast Cake
1/3 cup butter, softened
1/2 cup white sugar
1/4 cup packed brown sugar
1 egg
1/2 cup all-purpose flour
1/2 cup whole wheat flour
1/2 teaspoon baking powder
1/4 teaspoon baking soda
1/2 teaspoon ground cinnamon
1/2 cup buttermilk
Topping
1/4 cup packed brown sugar
1/4 teaspoon ground cinnamon
Lightly grease an 8 inch square baking pan. In a large bowl, cream together the butter, white sugar, and 1/4 cup brown sugar. Beat in the egg until well blended. In a medium bowl, combine the flours, baking powder, baking soda, and 1/2 teaspoon cinnamon. Stir the flour mixture into the creamed mixture alternately with buttermilk. Spread evenly into the prepared baking pan.
In a small bowl, mix 1/4 cup brown sugar and 1/4 teaspoon cinnamon. Sprinkle over the batter.
Cover, and refrigerate overnight.
The next day, preheat oven to 350 degrees F. Bake the cake for 30 minutes or until a toothpick inserted in the center comes out clean.
For more breakfast ideas see
Happy Housewife
.