COOL WHIP whipped topping is one of the easiest ways to make a dessert or any meal special.
When I was asked to share a way that COOL WHIP whipped topping can turn an everyday food into a treat, I knew that I had to share one of my kid's favorite breakfast treats.
It is so easy to let your kids feel like they are eating dessert for breakfast simply by serving pancakes or waffles with fruit topping and a little COOL WHIP whipped topping on top.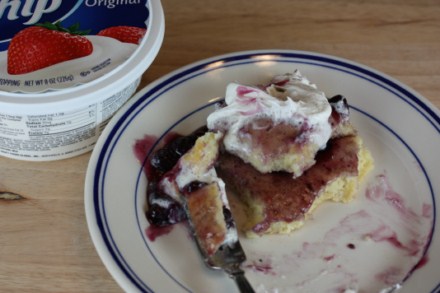 It is such a simple way to turn an everyday breakfast into a special one.
And really this can be dessert also. What kid or family would not love chocolate waffles with strawberries and COOL WHIP whipped topping for dessert?! YUM!
Here is what I do.
Pancakes with Fruit Topping
Pancakes or waffles, I use homemade, but use whatever you like
1 can fruit topping or use homemade fruit topping
COOL WHIP whipped topping
Set everything out and let your kids create their own fun breakfast or dessert.
Note: This is a sponsored post, but my thoughts and opinions are my own. 
This is just one of the many ways I get creative with COOL WHIP, making every dessert more delicious. Share what your kids love about COOL WHIP and you'll be entered to win $500 cash!
Visit the COOL WHIP Facebook page to see more recipes and to share your own COOL WHIP creations!
Sponsored posts are purely editorial content that we are pleased to have presented by a participating sponsor. Advertisers do not produce the content. Official Sweepstakes Rules.