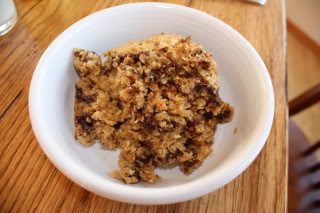 Joy at Fivejs told me that her family loves my peanut butter baked oatmeal, but they make it with chocolate chips in it. I thought this was a great idea. It was of those times I wondered why I had not thought of it. Peanut butter and chocolate make such a great combination, why wouldn't it be good in my baked oatmeal.
So, I gave it a try. It was so good. My kids loved it. The morning I made it, I did make two pans of the oatmeal. One with chocolate chips and one without. I knew my husband would not like the chocolate chips in his. But the rest of us loved it.
I know this is not the healthiest breakfast, and I won't make it this way everytime, but it is so good. It will be a nice breakfast treat once in a while. You really should give it a try.
So, thanks Joy, your version of my peanut butter baked oatmeal works for me.