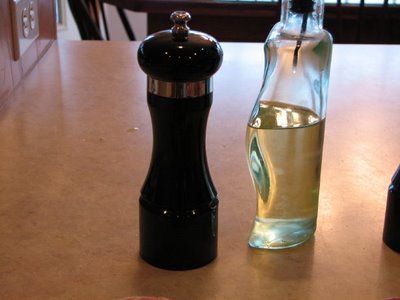 One of my favorite, yet most simple items in my kitchen is my pepper grinder. I will admit though it took me awhile to learn this.
Growing up my dad always preferred using a pepper grinder. He preferred this over the preground kind most people buy. I always thought this was a silly thing and just added an extra step. But then I did not really like pepper on things. I never pepper my food at the table.
Once I got married and started doing a lot more cooking, I still did not give in to using fresh ground pepper. I still bought the preground stuff. I started using pepper more, the more I cooked, but I just continued using what I had been. Even my husband who peppers a lot of his food did not seem to know about fresh ground pepper. That was until he tried it at my parent's house. He instantly realized that fresh ground pepper was so much better.
So, we went out and bought a pepper grinder, they really do not cost that much and are so worth it. We have had to replace our original grinder with the one in the picture. I think I paid about $15 for the one I have now.
Why is fresh ground pepper better, well because it is fresh. It has a stronger and fresher flavor. It is kind of like fresh herbs vs dried or Folgers coffee vs fresh ground ( or so I am told I don't like coffee). So my kitchen tip for today is try grinding your pepper or do you already use a pepper grinder?