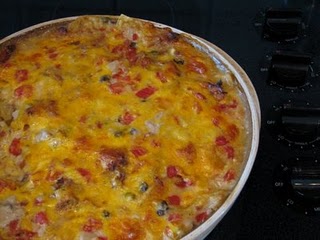 I had some pork left over from the Pioneer Woman's Shredded Pork. I also has some tortillas chips that were a little stale. I decided to use both to put together a casserole for dinner. I took the idea of a King Ranch Chicken Casserole but used chips instead of tortillas and pork instead chicken.We all really liked it. It was a good way to use up the pork and chips. All three kids had seconds which is a sure sign that it was a hit with them.

Pork Tortilla Casserole
1 can cream of chicken soup
1 can cream of mushroom soup
2 cups chicken broth
1 can rotel tomatoes (I used the mild ones)
4 or so cups tortilla chips (it was about a third of a bag)
4 cups cooked shredded chicken or pork
2 cups shredded cheddar cheese
Mix together soups, broth, and tomatoes until combined. Grease a 9×13 pan. Place a layer of chips in the bottom on the pan. Layer 1/2 of meat on top of the chips and pour 1/2 of the both mixture over top. Sprinkle with 1/2 of the cheese. Repeat layers. Bake at 350 degrees for about 45 minutes or until bubbly and done.