A few of you asked about this recipe a couple of weeks ago when I had it on menu plan, so I decided to post it. This is another one of those recipes that does not photograph well. It is not the prettiest dish I have ever made, but it is very tasty.
My family loves this for dinner. Even my son who normally does not like potatoes ate this and liked it. We call it potato pizza pie, but it is not really pizza or pie.
I found this in an old Taste Of Home Ground Beef Cookbook. I love the Old Taste Of Home recipes. They are so good. Not only are they good, they are usually frugal recipes because they contain everyday ingredients.
This recipe calls for condensed cheddar cheese soup, I used this because I had some that I wanted to use up. But I think next time I will just sprinkle a little cheddar cheese over the potatoes or make my own cheese sauce.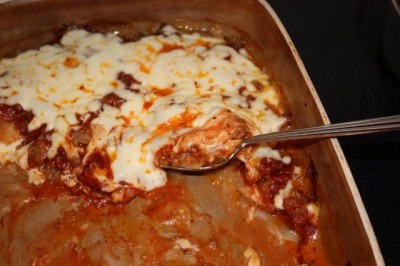 Potato Pizza Pie
4 – 5  cups sliced peeled potatoes
1 can (11 ounces) condensed cheddar cheese soup, undiluted
1/2 cup milk
1 pound ground beef
1 medium onion, chopped
1 ½ cups pizza sauce ( you could also use a store bought jar of spaghetti sauce or homemade sauce)
2 cups (8 ounces) shredded part-skim mozzarella cheese
Place potatoes in a greased 13-in. x 9-in. baking dish. Combine soup and milk and pour over potatoes.
In a large skillet, cook beef and onion over medium heat until no longer pink and drain. Spread over soup mixture. Pour pizza sauce over top.
Cover and bake at 350° for 60-70 minutes or until the potatoes are tender. Sprinkle with cheese; bake for 5 minutes longer or until cheese is melted.
Adapted from Taste Of Home.