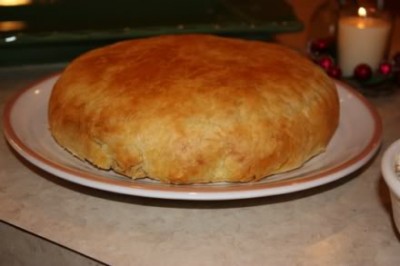 The other day when I posted my pictures of our office party food, several of you said that the brie looked really good. It was very good, or at least I was told it was. So, I wanted to be sure to share what I did to make it. It was really very easy and it made a nice presentation.
I have had puffed pastry wrapped brie before, but I have never made it. The first time I had this was when my mother in-law served it at a party she had. I loved it.
I love cheese. I always have loved cheese. Even as a kid I loved to eat just about any kind of cheese. So, the first time I tasted brie at my in-laws, I loved it right away. I can no longer eat brie like this because of the puff pastry, so next year I am going to try a different version of baked brie.
I wanted to serve a few different things at this year's office party, so I decided it would be a good time to try making the puff pastry wrapped brie. I knew it would be easy to make and would be something most of the people at the party would not have had before.
This worked great for the party. You can eat it just like this, which is what most people ended up doing or you can spread it on crackers or bread. This is a rich cheese, so it does not take much. I cut mine up to make it easier to serve and I think I cut it too big. It might have worked better to let everyone just take off a piece the size that they wanted. Now I know that for next time.
Puff Pastry Wrapped Brie
1 or 2 sheets of puff pastry, thawed ( I think my brie might have been larger than some, because it took about 1 1/2 sheets, but most recipes only call for 1 sheet)
1 brie cheese round
1 egg
Heat oven to 400 degrees. Unfold pastry on a floured surface. Place cheese in the center and fold around the cheese to cover. This is where I had to use part of the second sheet of puff pastry. I just cut out enough to cover the top of the brie.
Beat egg with 1 tablespoon of water. Brush seems with egg mixture. Turn brie over onto a baking or cookie sheet so that they seam (ugly) side is down. You can use any scraps of puff pastry to decorate the top of the brie, but I did not do this.
Bake for 25 minutes or until lightly golden brown. Let stand 20 minutes before serving.
So easy and so good!!!