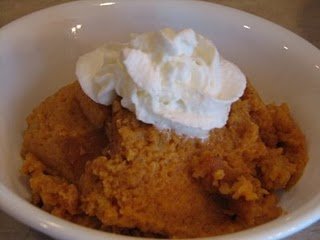 I received quite a few tips and suggestions a couple of weeks ago when I asked about cleaning my crockpot. You can read the update here.
Now on to my slow cooking recipe.
Fall is hear and that means I start fixing pumpkin desserts. I really like this one. It is made in the crock pot and is really easy. My kids said it is like pumpkin pie without the crust. I agree it is very much like pumpkin pie.
This is not a recipe that you want to put in the crock pot, turn it on, and leave. This one needs to be watched a little. It only took about 2 1/2 hours in my crock pot. The recipe calls for it to be cooked longer. I think this may depend on the crock pot. So check this at about 2 1/2 hours and than check occasionally after that.
This recipe calls for Bisquick. I rarely use Bisquick. I only have a few recipes that call for it. Now, that I am avoiding processed foods I am going to make my own mix and will post that when I make and use it. I do have a box of Bisquick left and am using it up. I did not want to throw it out and this recipe will be a good way to use it.
Pumpkin Pie Pudding
Ingredients:
1 can (15 ounces) solid-pack pumpkin
1 can (12 ounces) evaporated milk
3/4 cup sugar
1/2 cup biscuit/baking mix
2 eggs, beaten
2 tablespoons butter, melted
2-1/2 teaspoons pumpkin pie spice
2 teaspoons vanilla extract
Whipped topping, optional
Directions: In a large bowl, combine the first eight ingredients. Transfer to a 3-qt. slow cooker coated with cooking spray. Cover and cook on low for 4-6 hours or until a thermometer reads 160°. Serve in bowls with whipped topping if desired. Yield: 6 servings.
For more great recipes see Slow Cooking Thursday.