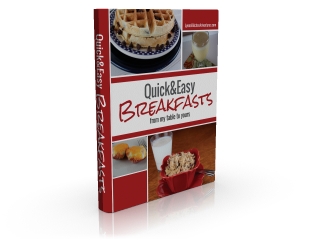 In November of 2010 I started offering free ebooks to my subscribers. Since then I have offered five different free ebooks, and I am working on a new free ebook that will be available next month.
These ebooks are full of my family's favorite recipes and cover various topics like breakfast, budget friendly dinners, quick and easy dinners and more. They are our favorites all in one book.
Over the last year I have had numerous requests for my past ebooks. I know I have many new readers that were not able to take advantage of those first few ebooks I offered and my newest readers may have missed out on all of them.
I am so glad that there has been interest in those ebooks,  however it is impossible for me to email out ebooks to each individual reader that requests them. I just don't have time to deal with and reply to all those requests.
So, over the last few months I have been trying to come up with a solution that allows my reader access to those past ebooks, but that does not take too much of my time.
I decided that the best way to do this was to reoffer my ebooks at a very reasonable price and by reasonable, I mean a price that almost anyone that missed out on them can afford. I hope to keep them at under $2 with an even lower relaunch price.
But I am not just bringing back the same book. I have reworked them, added a couple more recipes, added a printable recipes section, and updated the cover. It is the same basic book, but updated.
And the first ebook I am bringing back is Quick and Easy Breakfasts. I thought this was the perfect ebook to start off with because we all know breakfast is the most important meal of the day and not only that breakfast makes the perfect meal to serve anytime of day.
Right now you can get my Quick and Easy Breakfast ebook for only 99 cents. Just enter the code "BREAKFAST" at checkout. You can find out more details and purchase the ebook here.
I hope you enjoy! And thank you all for reading and coming back here to follow my Kitchen Adventures!