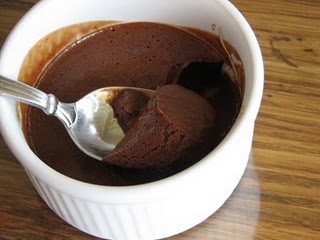 I found a new favorite, quick, and easy chocolate dessert. This is one of the best quick desserts I have ever made. I enjoy making fancy desserts. I like to try new recipes and enjoy taking the time to make them, but in reality, most days I don't have the time it takes to make them. I need easy things to make. This is perfect for that.
In my quest to eat healthier I am also trying to stay away from packaged and prepared items. I am not saying this is healthy, but it is homemade and not full of the extra things that packaged items have in them.
And did I mention it was SOOOOO good.
This is based on a recipe from the food network. The original recipe was a little to fancy for me. It had a mascarpone whipped cream on top. I decided to leave that off. I don't exactly have mascarpone sitting in my fridge. 🙂 It also had espresso powder in it.
My husband and I don't like coffee or espresso, so I left that out. If you like coffee go ahead and try it. It called for 1/4 teaspoon of espresso powder. But I think it was great without it. The recipe called it a mousse but I think it was more like a rich and silky pudding. When I think of mousse I think light and fluffy this was definitely more pudding like.
Easy Chocolate Dessert
1/2 cup whole milk
3 tablespoons sugar
1 cup semisweet chocolate chips
3 large egg whites
In a small saucepan over medium heat stir together the milk with the sugar until the milk is hot, but not boiling, and the sugar is dissolved. Place the chocolate chips in a blender. Chop slightly.
Pour the hot milk over the chips. Run the blender on high until combined, a few seconds. Add the egg whites and run the blender on high until light, about 1 minute. Transfer to 4 small serving cups. Cover with plastic wrap and place in the refrigerator until firm, about 3 hours.