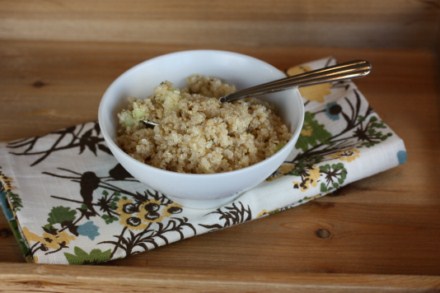 My husband loves tabouli, but tabouli is not allowed on the gluten free diet because the main ingredient is bulger and bulgar is wheat.
Now my husband is not gluten free, so he could freely eat traditional tabouli, but except for the occasional dessert or baked good, I pretty much cook gluten free so that the whole family can enjoy the same things. So, tabouli is not something that we have had in a long time.
A few months ago when I went to a food blogging conference, I received a few samples of quinoa from Bob's Red Mill. I have had a lot of fun experimenting with the quinoa and creating new things.
We love my Mexican Quinoa and I have also used the quinoa is several other things. In fact, we have been enjoying it so much that I purchased a large bag of  Bob's Red Mill Quinoa.
On the back of the bag of quinoa was a recipe for quinoa tabouli. As soon as I saw the recipe, I knew I had to try it. I knew my husband would really enjoy having tabouli or at least something tabouli like again.
The Bob's Red Mill recipe was a little different than most tabouli's that I have had. The recipe did not contain cucumbers and it had a little different seasoning than most tabouli's that I have had. But tabouli is one of those things that everyone seems to fix differently and according to their own taste.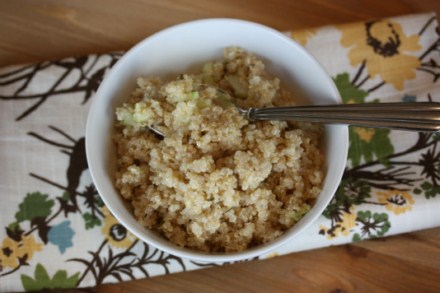 I ended up using the basic idea of the Bob's Red Mill recipe, but I tweaked it quite a bit and added some cucumber to it.
I wrote the directions below using dried herbs, but this would be really good with fresh herbs. My herbs have not survived the incredible heat that Oklahoma has had this summer. So, I have not had many fresh herbs on hand and have ended up using mainly dried ones for this. Use what you have and it will be fine.
Many tabouli's also contain mint. I don't like the mint taste in tabouli, so I left that out. If you like mint and have some fresh mint, feel free to add a little to this recipe. I am sure it would be good, that is if you like mint.
What I love about this recipe is how easy it is. It makes the perfect gluten free side dish for any summertime meal.
Quinoa Tabouli
2 cups cooked quinoa (cook according to the package directions)
1/2 teaspoon dried parsley
1 clove minced garlic
1/2 teaspoon dried basil
1/4 cup lemon juice
1/4 cup olive oil
1/4 teaspoon salt
1/8 teaspoon pepper
1/2 cucumber, peeled, seeded, and chopped
Combine all together and refrigerate for several hours before serving.