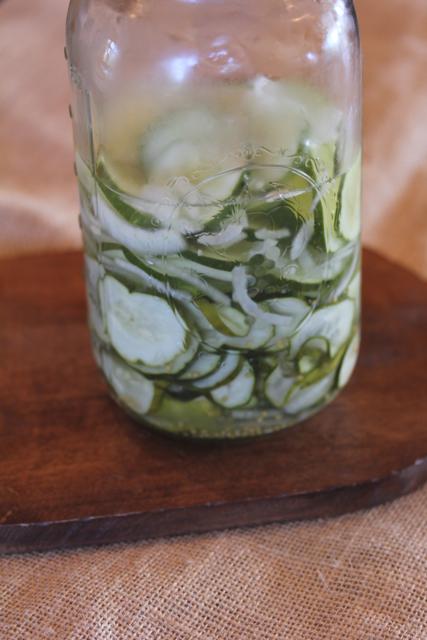 Note:This is a sponsored post as part of my ambassadorship with Nakano.
Fresh cucumbers from the garden during the summer is one of the reasons I love gardening. There is nothing quite like fresh summer produce from the garden or farmers market.
Growing up my parents always had a big garden and almost always grew cucumbers. One of the things you often found in our refrigerator during the summer was a version of refrigerator pickles. There was often a container or jar of them in the fridge waiting for dinner or snacks.
Over the years I have made various versions of refrigerator pickles for my family. I like to tweak recipes and come up with different flavors and combinations. A few years ago a friend of mine told me she used rice vinegar in her version of refrigerator pickles and I knew I had to try it.
Now it is my favorite way to make refrigerator pickles. I have varied the percent of rice vinegar to other vinegar and have decided that I like 50% rice vinegar. Less than 50% rice vinegar and you don't get as much flavor. More than 50% rice vinegar and you loose some of the tang of the vinegar that my husband and girls love.
My girls love these. They will eat them with lunch, dinner, and as a snack. I love keeping healthy and delicious snacks like these on hand especially during the summer.
A few months ago I received a box of products for working with Nakano and it was full of their seasoned rice vinegar in different flavors. Over the last few weeks I have had all kinds of cucumbers coming from the garden and have had fun playing around with the different rice vinegars.
We have really enjoyed how they turned out using the different vinegars. So if you want to change it up even more try not only the rice vinegar, but the seasoned rice vinegar.
And if you have never tried refrigerator pickles you need to. They are delicious!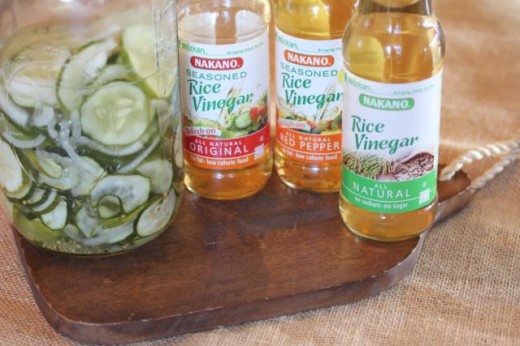 Refrigerator Pickles with Rice Vinegar
8 cups sliced cucumbers

1 onion sliced

1 1/2 teaspoons salt

2 cups sugar

1/2 cup white vinegar

1/2 cup Nakano Rice Vinegar– You can also use a Nakano Seasoned Rice Vinegar to add a different flavor

1 teaspoon mustard seed
In a colander toss cucumbers and onion with salt and place over a bowl. Let sit 30 minutes tossing occasionally. This well help some of the liquid drain from the cucumbers.

In a small bowl combine sugar, vinegars, and mustard seed.

Place cucumbers and onion into a large bowl or glass jar. Pour vinegar mixture over the cucumbers.

Refrigerate at least 24 hours before serving. This will last up to two weeks in the refrigerator.
Disclaimer: I was compensated for my time in writing this post, but my thoughts and opinions are my own.