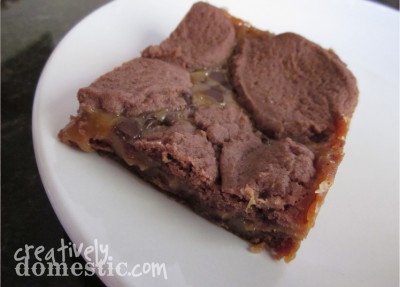 This is a guest post from Rita at Creatively Domestic. Rita is a wife and mom with a three year old at home and one on the way! Creatively Domestic is all about cooking new recipes and being creative and frugal at home.
This is one of my all-time favorite dessert recipes…chocolate, caramel, then even more chocolate!
The recipe originally came from my college roommate. We were in the mood for some sinfully chocolate brownies one afternoon and my roommate ended up calling her Grandma for this recipe. It has made its rounds around my family, and I even made this as my "birthday cake" this past year.
Chocolate Caramel Brownies
Serves: 12
1 German chocolate cake mix
14 ounces caramels
2/3 cup evaporated milk
1/2 cup butter
1 cup semisweet chocolate chips
Melt caramels and 1/3 cup evaporated milk in the microwave, stirring after every 20 seconds or so until melted.
Grease and flour a 9 x 13 pan. Mix cake mix, 1/2 cup butter and 1/3 cup evaporated milk. (It has the texture of Tootsie Roll dough – will be thick!)
Spread 1/2 of the dough in bottom of the pan – it works best to use your fingers! This is the base of the brownie and will keep the melted caramel contained, so I like to work a little batter up the sides to create a lip. Bake at 350º for 6 minutes.
Sprinkle 1/2 of the chocolate chips over the baked dough, then pour the melted caramel over and top with the remainder of chips.
Drop tablespoonfuls of dough on top. Bake for 15-18 minutes. Let caramel cool before cutting into.